POV
(2004)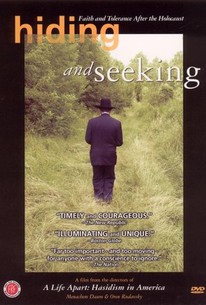 Movie Info
Members of a family try to bridge their differences as they address different interpretations of Judaism in this emotionally powerful documentary. Menachem Daum is a devout Jew, as is his wife, Rivka Daum. During World War II, Rivka's father survived the Holocaust thanks to a Polish family who hid him from Nazi troops in their home, and Rivka and Menachem have planned a trip to Eastern Europe in order to find and meet the Poles who saved her father's life. The couple have two grown sons, whom they wish would join them for the trip; both are Orthodox Jews living in Jerusalem and studying in yeshiva. While Menachem is proud of his sons' faith, he also believes they have set themselves apart from the real world, and fears they've used their devotion as a wall rather than a bridge. Eventually, the two sons join their parents on their journey, and both the parents and their children gain valuable perspectives on one another's points-of-view, especially after meeting the family of heroic Poles. Hiding and Seeking: Faith and Tolerance After The Holocaust was shown in competition at the 2002 San Francisco Jewish Film Festival.
Rating:
NR
Genre:
, ,
Directed By:
Written By:
In Theaters:
On DVD:
Runtime:
Studio:
Audience Reviews for POV
½
But the World Entire Must Be Saved Again It probably says a lot about the United States that Menachem Daum's parents, Holocaust survivors both, gave him a name of great significance, and when his aunt registered him for school, she registered him as "Martin," because it was easier to pronounce. "Menachem," you see, means "comforter," or something approximating that. He was, to his parents, a symbol that life goes on. Their world and their people did not vanish up the chimneys at Auschwitz. I mean, there's some power behind that. Names hold a great deal of weight, and Americans don't seem to care as much about that. ("I'm an American," says Butch in [i]Pulp Fiction[/i], explaining that his name doesn't mean . . . anything.) And in fact Martin means "dedicated to Mars" or some such and probably isn't the kind of thing survivors want to lay on their son. But American awareness of names is so shaky that I deeply distrust my own poking around on that latter issue, because most name origins websites are of only dubious reliability. We're more interested in thinking any name means something cool than in understanding its real meaning. Anyway. Menachem Daum is the son of Holocaust survivors, as is his wife, Rifka. They have sons, Akiva and Tzvi Dovid. Rifka acquired a tape of a rabbi espousing deep and fervent hate for Gentiles, expressing a belief that Jews should build a wall around Jewry and separate from Gentiles entirely. Menachem plays it for his sons, and one says it's wrong but understandable. The other basically says it's true. Menachem's father felt much the same way, but his mother had come out of the Holocaust with a distaste for God and a dislike of separating people by belief. Menachem believes that the greatest evil in the world today is religious extremism, regardless of stripe, and does what he thinks is the only solution. Rifka's father and uncles were hidden during the Holocaust by a Polish family. Despite a promise that they would write--and compensate the family for their expenses--once the boys left Poland, they never spoke to the family again. So Menachem takes his sons to find the Gentiles who saved their grandfather. One of the sons says at the beginning that he's sure there are good Palestinians, too, and you never hear about them. He says that it's the bad Gentiles who have held all the power in the world. However, I would say instead that it's easier to remember those who have wronged us than those who just sort of get along with us, and you need to do something pretty spectacular to outweigh the bad. Don't get me wrong; the Jews have been horribly mistreated over the millennia. A lot of really bad people have held power over them as long as they've been a people. I don't dispute that at all. I just think that the average person who has had anything to do with Jews over the last six thousand years or so has let them just sort of get along. Probably this is even true of Palestinians. I think in most cases where there's bad blood today, at least, it's more about actions than ethnic and religious identity. After all, there is old Honorata Matuszezyk Mucha and her family. They risked death for the Federman boys. According to her, at least one of their neighbours knew about it, too. The Nazis came to the farm once, and the boys were very nearly discovered, but they made it through the war through the compassion of the Muchas. They have been added to the list of the Righteous. And indeed, the fact that such a list exists pretty well shows that not all Gentiles have harmed the Jews over even the last century. People are likely, I think, to take advantage of any situation which benefits them in some way unless they are very good people, but that still proves that there are very good people in the world. Akiva and Tzvi Dovid must come to terms with the fact that some of them, at least, are Gentiles. Probably this means some of 'em are Palestinians. In the end, the younger men are left only with things to ponder. I doubt their minds were changed, and they probably haven't been all these years later. Not entirely, anyway. It takes a lot to change minds which are set in place about How People Are. Menachem says that he hopes he's planted a seed, though, and he at least proved that Jews are capable of failing their words, too. Chaim Federman never wrote the Muchas. He never compensated them. This, we are told, is because he was at first poor and then was in obligation beyond what he could face. He was ashamed. Which is understandable. What's important here is that he overcame it. The Federman family have now set up an educational fund for Honorata Matuszezyk Mucha's grandchildren. They went through the effort to get her, her husband, and her father placed on the list of the Righteous. Maybe Menachem's sons will now think of them as exceptions to the general rule that Gentiles are to be at best ignored. But maybe having that exception will make them consider that perhaps it isn't a rule at all.
Edith Nelson
½
A man's gift to his family brings about a reunion long overdue. This film illuminates some quirky aspects of human nature and a hope for reconciliation. Kindness can be so great, so inexplicable, that the recipient, overwhelmed by the burden of perceived debt, retreats and hides rather than expressing a gratitude he fears to be inadequate. In doing so, he can also leave a legacy of misunderstanding. This filmmaker attempts to leave his family a legacy of understanding and love. Although not extraordinarily in technical aspects, this film is worth watching for the heart behind it.
Rebekah S
½
I rented this and thought it was a movie. It's a documentary. Anyway, I guess I can't say that I watched the whole thing because I didn't. But from what I saw, it led people to think that NO gentiles can be trusted, and I didn't like that. Because many Jews were rescued by trustworthy gentiles during the Holocaust. I give it a three. It was filmed very nicely, but I didn't like the rest.
Hannah Machado
POV Quotes
There are no approved quotes yet for this movie.
Discussion Forum
Discuss POV on our Movie forum!