Hierro
(2009)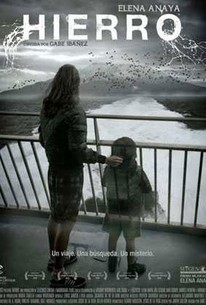 AUDIENCE SCORE
Critic Consensus: No consensus yet.
Hierro Photos
Movie Info
A mother searches desperately for her son after he mysteriously disappears on a ferry ride to the island of El Hierro.
Rating:
NR
Genre:
,
Directed By:
Written By:
In Theaters:
Runtime:
Studio:
Madrugada Films
Watch it now
Cast
Critic Reviews for Hierro
All Critics (3) | Fresh (2) | Rotten (1)
Ibanez uses the island's liminal fringes and barren interiors to trace his heroine's state of mental withdrawal.

Hierro is unquestionably a film of consummate craft and eerie beauty. Give Ibanez a less shopworn screenplay, and one suspects that his next feature will do more than just skilfully coast.

Ironically, despite the narrative positively drowning in water imagery, there is never any sense of flowing story.
Audience Reviews for Hierro
I was hoping the movie would be a little better and not so slow paced, because it lost me a few times as a result of boredom. That said, the story had a lot of potential and Elena Anaya was great and really did it best to not let the movie down, but it dragged her a little once in a while. But overall, it tries its best and it ended up being a cute emotional movie that really brought its A game in its third act, with a very chilling and lovely ending. ~September 26, 2014~
Hugo Guerrero
½
Hierro (Gabe Ibáñez, 2009) I was first exposed to Hierro thanks to novelist Wayne Simmons, who highly recommended it a couple of years back. Took me a while to get round to seeing it, but I'm very glad I did; turns out Gabe Ibáñez started out working for one of Spain's finest directors at the moment, Àlex de la Iglesia, and it shows. Hierro is a beautifully-shot little mystery film, with fine turns by both upcoming and established actors. The script, from Javier Gullón (Invasor), isn't anything new, but with this one, it's not the destination, it's the journey. The opening sequence is a fantastic example of both the movie's strengths and its (what some might see as) shortcomings. We open with María (Room in Rome's Elena Anaya) and her son Diego (Kaiet Rodríguez in his screen debut-he has gone on to do a bit of television work since) driving at night and getting into a horrible accident. The dialogue is limited, but realistic and well-done, Anaya's character is believable, and while there's nothing here you haven't seen before (the slow-motion shot of the toy car during the accident? It may not be a cliché yet, but it's well on its way if not), but it's all very well-done. Turns out it was only a dream-bet you didn't see that one coming-but it ends up being a prescient one. María and Diego are on a ferry to Hierro, which Wikipedia informs me is the smallest of the Canary Islands, one day when María dozes off. When she wakes up, Diego has gone missing. She leaves the island with the usual assurances that the law will do everything they can. Which is less than a comfort when they contact her six months later to come identify a body. The kind of good news-it isn't Diego. Which leads to the bad news-he's not the only kid that's gone missing, and with renewed hope that Diego may still be alive, María stays on Hierro to search for him herself. That, it turns out, may be dangerous. You've probably seen dozens of variations on this theme. I've seen it two or three times this year, plus read a Richard Matheson novel with a different spin on the idea (also adapted into a Spanish film, Jaume Balagueró's Los Sin Nombre). So when the Big Reveal comes rolling along, well, you guessed it twenty minutes in. But this movie isn't about the Big Reveal any more than American Beauty, with the Big Reveal in the opening sentence, was. Hierro is all about watching Elena Anaya do what she does best, backed up by a number of other fine performances. Special mention should also be given to cinematographer Alex Martínez (Stay Alive), who specializes in exactly this sort of claustrophobic thriller and knows just what to do with it at every turn. (The underwater shots are stunning, every one of them.) Don't expect a timeless mystery and you'll have a grand time with it. *** 1/2
Robert Beveridge
This one starts really good and has awesome cinematography and really good actors. Still in the end, it doesn't completely deliver on the premise. One of the main problems being, that it too foreseeable, but still tries to build upon a twist, that you can see coming a long way, before it actually gets revealed in the movie. The hints are there of course and it is pretty nicely done. Maybe if this is your very first thriller, you might be a bit more excited. But all in all, you can watch this, just be patient with the movie and enjoy it's setting and the "view".
Dimitris Ladas
Discussion Forum
Discuss Hierro on our Movie forum!
News & Features