Higanjima
(2009)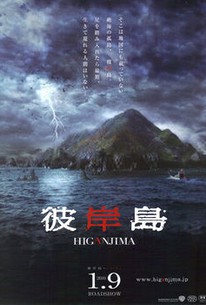 AUDIENCE SCORE
Critic Consensus: No consensus yet.
Movie Info
Akira (Hideo Ishiguro) travels to a remote island filled with vampires in order to rescue his older brother Atsushi.
Critic Reviews for Higanjima
All Critics (2) | Fresh (0) | Rotten (2)
Very broad, way too talky, and sometimes too damn goofy for its own good.
the flat characters here are even more lifeless than their undead opponents, making this one strictly for the original comicbooks' more obsessive young fans.
September 7, 2010
Audience Reviews for Higanjima
I think there's a reason why Japanese manga comics, or anime films, really don't make the transition to live-action with successful results, at least as it relates to quality. I almost hate to paint the entire Japanese manga/anime genre with one broad stroke, but they're usually very goofy, over-the-top, and melodramatic. The only reason they work is that they're in an animated setting where ANYTHING can happen. There's a lot of leeway. There's a lot of stuff you can get away with in anime and manga that you probably couldn't get away with in a live-action setting. There's a lot of crazy shit in anime and manga, so at least they chose one that really doesn't get as over-the-top as some of the one's I've seen. The problem is that this movie is just no good. It has a lot of blood and violence, I'll give them that. But that does not make a good movie. The problem is that there's no real story, there's no real reason for the events that are occurring. You're giving the absolute bare bones as far as characters go and yet you're expected to sit there and tolerate 2 hours to this movie. That's also a problem, for the amount of nothingness that is going on, there was no justifiable way to have the movie be as long as it is. If the film, at least, had interesting characters to make up for the story being nonexistent then that would be one thing. But nope, none of the characters are interesting and you don't really care about whether they lived or died. That's also a problem, because if you don't care about the characters then why in the fuck would you care about their fight against the vampires? And the movie takes itself way too seriously at times. Almost to the point where it's unintentionally funny. The CG effects that are there are also pretty terrible. That battle with the gargoyle in the last act was just horrendous. And the villain of the film. Oh boy, this villain was something else. Try to imagine what a vampire from a Japanese manga would look like. And there you have the villain of this movie. Seeing this took such an edge off the movie, it was really hard to take ANYTHING seriously after you see this guy. I feel this villain would've worked in an anime setting, I really do. When you take the animation out of it and you put him in a live-action setting, it only makes it infinitely worse because he just looks so fucking goofy. And the way he speaks is also terrible too, the corniest dialogue you can think of. Seriously, whoever thought it was a good idea to make this into a live-action film made a severe miscalculation. How could you see this and think 'hmmm, this would make a good live-action film'? I really don't know how you'd come to this conclusion. There's a reason it was a manga in the first place, so stay along those barometers, make an anime film. That way you can have it be as goofy and as over-the-top as you want and not have to worry. Man, this movie sucks.
Jesse Ortega
Super Reviewer
½
Higanjima has got the makings of a thriller, but Tae-gyun Kim ends up with a dramatic and partially dark picture instead.
For a film that dances near the two hour mark, there is quite a bunch left unsaid. That means the story meanders its way to its prolonged final act. It's not that the events of the movie are irrelevant to its story, but there are times where things become melodramatic and/or difficult to take seriously.
The violence gets bloody when it needs to and that probably helps keep this film from derailing off the track. The action is passable, with some small potential seen in the swordplay, and some mediocre CG when utilized for some unexplainable creatures.
Hideo Ishiguro is one of the few cast members with a character that is sufficiently set up. Asami MIzukawa, Miori Takimoto, Tomohisa Yuge, and Koji Yamamoto are some of the supporting personnel with promising characters that suffer from limited build up.
Higanjima is a watchable movie. Just don't expect a masterful vampire spectacle.
Higanjima Quotes
There are no approved quotes yet for this movie.
Discussion Forum
Discuss Higanjima on our Movie forum!