High Risk
(1995)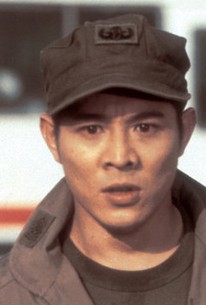 AUDIENCE SCORE
Critic Consensus: No consensus yet.
Movie Info
In this action comedy from Hong Kong, Jet Li plays Kit, a former cop whose family was killed by a bodyguard. No longer interested in serving with the police force, Kit gets a job as a bodyguard for Frankie (Jacky Cheung), a Hong Kong action movie star famed for doing all his own stunts. However, the truth is Frankie is often too drunk to do anything especially complicated, and Kit starts stepping into his shoes when things get complicated. When a gang of jewel thieves stage a daring robbery in a hotel where Frankie and his high society friends are throwing a party, it's up to Kit to save the day. Many Hong Kong movie aficionados were amused by the character of Frankie, which was widely seen as a parody of top HK star Jackie Chan.
Critic Reviews for High Risk
Audience Reviews for High Risk
I'm not sure this one would actually qualify as a martial arts genre film -- definitely not typical. A lot of Jet Li rolling around on the floor JUST faster than badly-aimed, opposition-party bullets -- and a whole lot more of Jet Li firing many, many Uzis rather than giving the old, say for instance, boot-to-the-face etal kinda whushu-butt-kicking stuff . . .
BUT: It's Jet Li, sooooo . . . And have you ever seen an elevator-sized car take an elevator ride like that? Possibly not, yes? Whooohooo!
My for-real flixster friends already know that this one will get no fewer than three stars from me. And so it goes : )
Arbitrary, I hear some say.
Not, I say.
A year after Speed, eh? No problem: It's not as egregious as, maybe, Martin Scorsese's ripping off of Infernal Affairs.
Yes?
Think about one of my future-wife possibilities, Sandra Bullock's, line: "You didn't leave me alone." Keanu Reeves does his best acting with the come-back line about not needing to be anywhere else . . .
No, really, please actually think about Sandra Bullock's line -- and not because she's stunningly good-looking -- especially now for someone who's grown into 46 or 47 years old : )
Pretty heavy movie cross-referential influence, wouldn't you say? Not being left alone. Yes? No? Blowing up bus?
Yes! Great movie, accordingly : )
Ripping off intellectual property seems to be a movie industry standard nowadays. So WTBorat. This one is a great Hollywood-gets-reverse-ripped-off.
Lanning : )
Super Reviewer
An unusual Jet Li flick - plenty of action but SOOOO funny as well - co-star Jacky Cheung is a crack - up!!! A great movie with some superb action scenes!!!
½
Like Die Hard if John McTiernan despised Jackie Chan. Overall, a pretty fun action film.
Christopher Brown
Super Reviewer
High Risk Quotes
There are no approved quotes yet for this movie.