High Road to China
(1983)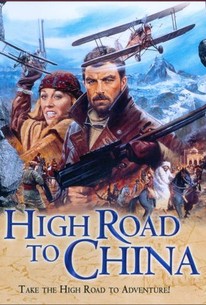 AUDIENCE SCORE
Critic Consensus: No consensus yet.
High Road to China Videos
High Road to China Photos
Movie Info
Set in the 1920s, this adventure stars Tom Selleck as crack biplane pilot O'Malley, who is hired by a wealthy heiress (Bess Armstrong) to find her disappeared father (Wilford Brimley).
Critic Reviews for High Road to China
There are no critic reviews yet for High Road to China. Keep checking Rotten Tomatoes for updates!
Audience Reviews for High Road to China
An Indiana Jones knockoff starring Spielberg's original choice for Indy: Tom Selleck. Instead of an archaeologist and his tomboy girlfriend we've got an ex-flying ace and the woman who hired him to hunt down her father so she isn't disinherited. It's not... quite as good a combination. Tom Selleck though, is every bit the drunken charming rogue the film calls for. It's a shame he wasn't in more roles like this. The rest of the cast is alright, though it does have the most racist villains I've seen in a while, with Brian Blessed playing an Afghani warlord with the same level of subtlety as, well, Brian Blessed. It feels like his failed audition reel for Ming the Merciless. The plot is solid enough, and based on the same '30s serials that Indy used for inspiration. It might not have very high stakes or the best villains but it has more flying scenes and some pretty scenery. And the action scenes aren't too bad, even if they don't compare well to Indy (what does?). There's a certain liveliness missing though and the film can never quite manage to elicit the thrills it's aiming at. Still, there's a reason these kinds of films were popular, and it does manage to pull off its adventure seeking better than any other Jones knockoffs I can think of short of The Mummy. So not a bad way to waste a couple hours.
Stuart McCunn
This film had two strikes going against it when it came out, which squashed it's overall star rating, and buried it's legacy at the box offices. You'll notice these strikes mentioned in a lot of these old reviews. Strike One: It came out a year after Indiana Jones. Not uncommon for Hollywood to come out with a bunch of copycat films all at once, some of which can be better than the original films they're copying. It's just that Raider's was too epic to have a follow-up that wouldn't pale in comparison. Also, because of this, the copycat films didn't really come out in full force until the mid 80's. As a result this film stood there all alone with no hope of comparing to Raiders. Strike Two: Tom Selleck was offered the role of Indy and turned it down. Can you come up with a juicier bit of fodder for critics? They went to town on that one, as you can read in these old reviews. What about the film though? It's not bad. They nailed the period setting of exotic locales as far as I'm concerned. The action is good, the performances are good. It captures pretty well The Indiana Jones style of adventure. So, it's not Indiana Jones. Who cares? What's wrong with a good adventure flick that follows the style of a film. Raiders created a whole genre of adventure films, and yet when you look at the serial adventures it was based on you realize it didn't create them either. This film is the first attempt at continuing with that genre, only when it came out people couldn't see it was following a genre, and treated it like a knock off. This is a solid 75% adventure film, and should be given another shot by modern viewers who aren't conflicted with the bias this film encountered. Enjoy!
Marcus Mcgregor
You ever get the feeling that sometimes actors never live down that one role they know they should've taken? It's well known that Tom Selleck turned down the lead in Raiders Of The Lost Ark. Although he went on to great success on Magnum PI, and basically becoming a tv legend, Indiana Jones was the role that could've given him the successful big screen career that has pretty much eluded him. In an attempt to cash in on the success of Raiders, Selleck stars in this story of a WWI flying ace that is hired by a rich bitch to find her missing father before he is declared dead, and she loses her pampered lifestyle. Many of the elements that made Raiders a success are there....a dashing and charming leading man, exotic locations, big scale action, romance, humor, etc. But what's not there is inspiration. This is a very by-the-numbers production. Where Raiders was an homage to the great serial plays of the 30's, this movie is made like one. The characters are painted in very broad strokes. The villains to everything except twirl their mustaches in very Snidely Whiplash manor, and we expect a black and white title card to pop up over their faces with sayings like "You'll never stop me! Ah ha ha ha!" The romance is pretty much dead in the water. There's no reason for these two people to fall in love, but they do. There's also really nothing at stake in this movie except for who get's daddy's money. The actors, for the most part, do give it their all. It's a shame that Selleck never achieved success in movies. He's a very talented and charismatic actor that just oozes charm and good will. You can't help but like the guy. Bess Armstrong plays the spoiled brat very well, and you can't help but wonder if this is just art imitating life. Jack Weston is the comic relief as Sellleck's mechanic and best friend. Wilford Brimley appears late in the movie as Armstrong's father, and he is a effortlessly believable as he ever is. The biggest stumbling blocks are the villains. Robert Morley is far too goofy to make a threatening villain, and Brian Blessed as an Arab chief does nothing more that eat, laugh, and bare his teeth like does in every movie. However the action is quite serviceable, if unremarkable. It's large scale, and includes bi-plane dogfights, bombing runs, gun fights, car chases, etc. The photography is also quite good. The vistas in the movie, shot in Yugoslavia, and really beautiful. So let this be a lesson to all actors out there...if Steven Spielberg comes to you and says "I want you to star in my next big budget action movie" you say...YES!
RJ MacReady
Super Reviewer
High Road to China Quotes
There are no approved quotes yet for this movie.
Discussion Forum
Discuss High Road to China on our Movie forum!