Highwaymen - Willie, Waylon, Cash & Kris - Live
(1990)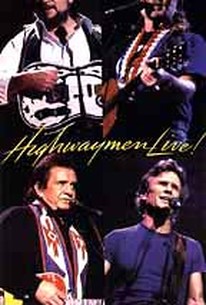 AUDIENCE SCORE
Critic Consensus: No consensus yet.
Movie Info
Rating:
G
Genre:
On DVD:
Runtime:
Critic Reviews for Highwaymen - Willie, Waylon, Cash & Kris - Live
There are no critic reviews yet for Highwaymen - Willie, Waylon, Cash & Kris - Live. Keep checking Rotten Tomatoes for updates!
Audience Reviews for Highwaymen - Willie, Waylon, Cash & Kris - Live
½
Sadly, this should be called the Kris Kristofferson Concert. Live VHS performance (and some documentary) of tunes, do NOT expect to hear many hits. As a matter of fact, very few real hits (or any you ever heard of). The ending is pretty good. Were it not for Willie Nelson and Waylon Jennings,this show would be a bust for me. If anyone could ruin a show, it was Kris Kristofferson. [img]http://i1.ytimg.com/vi/m1k-GYdCGOo/hqdefault.jpg[/img] A antidote to Kristofferson cow mooing was this man, Waylon Jennings Midway it has some political commentary, like Cash saying he is proud of the country even with flag burning being Constitutional (boos in crowd), but he then remarks, well "owning guns is a right as well and I will shoot yah." (crowd goes wild cheering) Recorded live at Long Island's Nassau Coliseum in 1990. Not a particularly well filmed event nor a huge show event we now have been accustomed to seeing from rock stars. This is a pretty bare bones concert with not much lighting or fancy gimmickry. Unfortunately, for me at least, Kris Kristofferson takes over much of the concert, who can't sing a lick. Worse, his songs he and the others sing are not HITS. Terribly disappointing having him on the stage for me alone, apparently. [img]http://cdn1.ticketsinventory.com/images/thumbs/concert/k/kris-kristofferson/kris-kristofferson_N_LkezUKS40.jpg[/img] Kris Kristofferson, right, then Cash, Jennings and Nelson Now why oh why is Kris K. up there with these other icons I do not know, other than the fact that Johnny Cash took a keen interest in Kris long ago as a worker at his studio. Kris is admired AS A SONGWRITER by Nelson and the others, BUT Kris cannot sing as is painfully obvious in this concert, yet he is treated as an equal (which he is not). His biography (see http://en.wikipedia.org/wiki/Kris_Kristofferson) shows he was a songwriter primarily and much later an actor. Kris was inducted into numerous country Hall of Fame's. But besides marrying celebrities of the day and having 8 children total, I still can't see him up on stage with the likes of true stars like Cash, Jennings and Nelson. No way. [img]http://www.guitarworld.com/files/imagecache/futureus_imagegallery_fullsize/gallery/highwaymen.jpg[/img] Not just for music fans, legends Cash and Jennings are now deceased and who knows who's next. Yes, it's living musical history on stage and I will just leave it at that. The Highwaymen were a country "supergroup" 1985-95, consisting of Johnny Cash, Waylon Jennings, Willie Nelson and Kris Kristoffersen. [img]http://upload.wikimedia.org/wikipedia/en/thumb/7/7f/Highwaymen.jpg/220px-Highwaymen.jpg[/img] The ONLY real highlight of this concert for me was Willie Nelson, who just blew away everyone else on that stage with his soulful singing. Singing cross-over jazz like songs, people just sat there like stones. The audience was there to hang somebody and cheer, but not Willie. REVIEWS by those like us: 1. "In 83 minutes you get 25 country songs, including many classics, and with the added surprise that several are performed by the complete foursome (e.g. Help Me Make It Through The Night, Big River); 13 pieces are solos by just one of the four. Being a fan of classic country music, I enjoyed the show very much." 2 A great historic collaboration! If I were lucky to have been at this concert, it would be one of the few times where I could walk out and say.....Now THAT was a great concert! 3 A riveting performance from country musics original core of "outlaws". A must see for any real country music connoiseur. [img]http://wac.450f.edgecastcdn.net/80450F/1130thetiger.com/files/2012/03/hqdefault16-300x225.jpg[/img] NOTES: 1 The DVD was shot at Long Island's Nassau Coliseum in 1990 and runs 98 minutes. .... Considering this video was filmed during 1990, its amazing good quality both sound and video. 2 Active between 1985 and 1995, these four artists recorded three major label albums as The Highwaymen: two on Columbia Records and one for Liberty Records. Their Columbia works produced three chart singles, including the Number One "Highwayman" in 1985. 3 Formed in 1985, the group did not have an official name when they released their first album on Columbia Records. 4 In 1990, the group reunited for a second effort, titled Highwayman 2, which reached #4 on the country album chart. 5 The group's final release prior to Jennings's death in 2002 was the 1995 Don Was-produced album The Road Goes on Forever, (a Robert Earl Keen cover), with the single, "It Is What It Is". The four singers then returned to their solo careers. 6 Same as everyone else - Won't play on any DVD player! Buy it on VHS, folks, until they work the bugs out of this one!! (numerous reviews were dissastisfied with the DVD version) SEE the 12 installment concert here, with part one: http://www.youtube.com/playlist?list=PL1A9E6A8F0B2942DF [img]https://encrypted-tbn2.gstatic.com/images?q=tbn:ANd9GcR83_q5ZrxQuvbv5fIuXZbIIYa5jlWBhgS5EL-EwJFnYhkHAYG-aw[/img]
monsieur rick
Discussion Forum
Discuss Highwaymen - Willie, Waylon, Cash & Kris - Live on our Movie forum!