The Hills Have Eyes 2
(2007)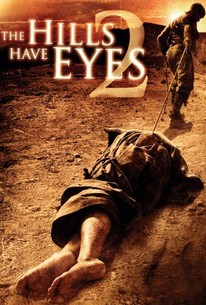 The Hills Have Eyes 2 Photos
Movie Info
As part of a routine mission, a unit of National Guard soldiers stop at a New Mexican outpost only to find the isolated research camp mysteriously deserted. After spotting a distress signal in a distant mountain range, the team decides to commence a search and rescue mission into the hills. Little do they know that these are the very hills that the ill-fated Carter family once visited, and that a tribe of cannibalistic mutants lies in wait. And this time, there is an even larger force of evil at work that is intent on the soldiers' very destruction.
People Who Like this movie also like
News & Interviews for The Hills Have Eyes 2
Critic Reviews for The Hills Have Eyes 2
Audience Reviews for The Hills Have Eyes 2
[img]http://images.rottentomatoes.com/images/user/icons/icon13.gif[/img] It's simply impossible to dive in and watch The Hills Have Eyes 2 without knowing exactly what it is that your getting yourself into. I watched it wanting nothing more than a good, solid, dumb, stylish, well-crafted exploitation bloodbath. Plus i'm a huge fan of Wes Craven, and the idea he was writing the sequel to the remake as opposed to sitting on the sidelines and producing made me think that this was going to be even better than I first anticipated. The fact of the matter is, it's not very good. A year before this was released Alexandre Aja's 2006 remake at first impact devided critics and audiences, however I personally had a differing opinion, I found it to be atmospheric and captured the landscapes in the same way Craven's original did, but brought quicker pacing to the table and an exceeding amount of barf-disgusting gore that before the series had lacked. I for one have no problems with cash cow sequels that are terribly unoriginal, as long as they are either equally as good as their predecessors or better. But this remake sequel is predictably dissapointing, the fact it lacks the visual style of the remake, the atmospherics of the original, and also it's character profoundness, pretty much leaves you with nothing other than over the top gore. This isn't Aja's The Hills Have Eyes, or even the original in which Craven took the directing chair, it's just proof of the depressingly low standard that horror movies have tragically succumb to in recent years. It's not terrible by quite some distance, it works hard to make sure that the deaths are as gory, bloody and revolting as inhumanly possible, but the problem is, it isn't scary, and I never winced once.
Directors Cat
Super Reviewer
½
The sequel to the 2006 remake is a nice variation of the storyline that we've seen in the first film. I preferred this version in a way because of the different twist the film offered. Instead of the same old, we get some new elements to a classic story, which is fine by me. The film is more disturbing, with more violence and gore to appeal to fans of the remake. I liked the remake, and I thought that this one delivered and did not disappoint. The Hills Have Eyes 2 is a thrill a minute sequel and serves even more blood than the first one. Decent acting with moments of sheer terror add to the nature of this sinister sequel, a film that terrifies as much as it entertains, this sequel elevates what we've seen before into unexplored territory and makes it that much more entertaining and above all fun. This is a good film, that is slightly better than the first remake, but both are equally good. However if you're a horror hound who enjoys great amounts of gore, then you won't be disappointed with this sequel. I think that they did a great job in delivering an effective sequel, one that makes this a must see for casual horror fans as much as the die-hound connoisseur of fine horror. A very entertaining film, even if it's imperfect, it manages to be a fun filled horror flick that at times you forget that it is a sequel to a remake, as you watch the chaos unfold before your eyes. As far as sequels to remakes are concerned, this is one of the best that I've seen. If you were disappointed by the sequel to The Ring, and countless Pulse sequels, then this film is for you.
½
Been quite a while since I watched it, but I faintly remember of having found it okay.
familiar stranger
Super Reviewer
The Hills Have Eyes 2 Quotes