Himizu
(2013)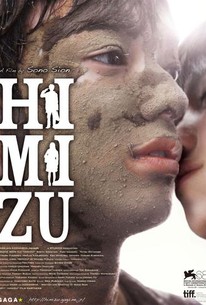 Movie Info
Sion Sono (Suicide Club, Cold Fish), adapts Minoru Furuya's popular manga to tell the confrontational tale of a troubled adolescent boy whose dreams of an ordinary life are slowly eroded in the aftermath of the Tohoku earthquake and tsunami. Fifteen year old Sumida (Shôta Sometani) and his mother run a small boat rental business on the outskirts of the city. They don't get many customers, but the presence of some local homeless people on their property ensure that there's rarely a dull moment around the shop. Meanwhile, at school, Sumida's classmate Keiko (Fumi Nikaidou) makes no secret of her massive crush on him. When Sumida's mother decides to abandon both the business and her son, Keiko and the other locals team up in an attempt to spruce up the boat house, and lure in some new clientele. But when Sumida's drunken, physically abusive father repeatedly shows up to berate the beleaguered teen, and a vicious crime boss appears seeking to collect on a lingering debt, the volatile situation quickly begins to boil over. ~ Jason Buchanan, Rovi
News & Interviews for Himizu
Critic Reviews for Himizu
Audience Reviews for Himizu
Filmed more naturalistically than the other Sion Sono films I've seen. Still very weird. The character motivations and emotions always don't make much sense, but still an interesting movie. It gets better in its second half. The main problem I had with it was Sumida hitting Keiko several times, almost casually, and the movie seems to almost treat it as endearing and not terrible like it is. Perhaps I'm missing the director's intent through the cultural prism, but I feel like the movie is all too accepting of it. It made me unable to feel much for Sumida as the film went on. And it also made me wonder why Keiko, an interesting character, would just blankly accept it (even if she was infatuated with him).
Matt Heiser
½
One of my increasingly favourite directors, Sion Sono, delivers this bizarre but heartfelt look at two adolescents struggling with what life has to offer them. Sumida must look after his family's boathouse after his parents leave. Now and again his drunk father returns to remind him that he would have been better of if Sumida had died, then he could have obtained the insurance. It's that kind of film. Sure, it's predominantly wrapped up in darkness, but there is heart and beauty also to be found. Sumida is reluctant to let anyone in, and only wishes for a 'normal' future. A series of events lead to stabbings, yakuza, rock collecting, and fighting a nazi. It's a strange film, but the strangest thing of all is how real it all feels. Set against the backdrop of the aftermath of the Tohoku earthquake and tsunami, the film has a distant feel but gradually lets you in and enjoy the characters. Certainly more than your average film.
Luke Baldock
Super Reviewer
Himizu Quotes
There are no approved quotes yet for this movie.