The Hip Hop Project
(2006)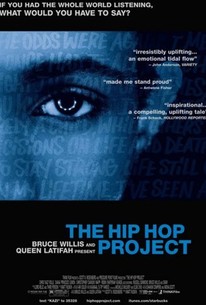 TOMATOMETER
AUDIENCE SCORE
Critic Consensus: Director Matt Ruskin's enthusiasm for the project is readily apparent, but his film is unfocused, meandering, and frustrating to watch.
The Hip Hop Project Photos
Movie Info
Chris Rolle was born into poverty in the Bahamas and found himself forced to fend for himself as a child when he was abandoned by his mother. Rolle came to America in his teens but soon found himself homeless on the mean streets of Brooklyn, NY. Rolle had a natural talent as a rapper, and had the good fortune of meeting Scott K. Rosenberg, who was the founder of Art Start, an organization that brings arts education to New York City's underprivileged. Encouraged by his contacts at Art Start, Rolle began developing a potent reputation as rapper Kharma Kazi, and soon he came to realize he wanted to give back to the community that helped lift him out of poverty. With the help of Art Start, Rolle helped found The Hip Hop Project, a workshop for aspiring hip-hop artists. Instead of simply teaching aspiring rappers about rhyming techniques or microphone handling, Rolle and his crew urged them to use rap as a way to speak out about the issues they face in their daily lives rather than rhyming about violence, sex, bling, and the gangsta lifestyle. In time, hip-hop powerhouse Russell Simmons partnered up with movie star Bruce Willis to donate a recording studio to the group, thus enabling the musicians to record and release their own record, HHP Vol. 1: Are You Feelin' Me?, issued in May 2007. The Hip Hop Project is a documentary about Rolle and The Hip Hop Project crew that offers a behind-the-scenes look at their work and their impact on a group of young people eager to hone their musical skills. The film received its world premiere at the 2006 Tribeca Film Festival.
News & Interviews for The Hip Hop Project
Critic Reviews for The Hip Hop Project
Audience Reviews for The Hip Hop Project
I loved this film. I think hip hop could use more kids like this coming up in the game. Kids that treat hip hop like the art form that it really is.
Josh Hakala
In 1999, Chris "Kazi" Rolle, a former performing arts student, rapper and one-time street hustler, created the "Hip Hop Project" under the auspices of Art Start, a non-profit organization dedicated to bringing art and inner-city teenagers together. Rolle created the Hip Hop Project, an outreach program for inner-city teenagers interested in becoming hip hop artists or joining the music industry. Over the next six years, the Hip Hop Project became a surrogate family, with the youthful Rolle as a surrogate father figure. Remarkably, Rolle was only in his early twenties when he started the Hip Hop Project. Rolle and the Hip Hop Project are the subject of Matt Ruskin's first documentary. [i]The Hip Hop Project[/i] follows Rolle as he sets up Hip Hop Project, introduces teens involved in the program, and eventually settles on two inner-city teenagers, Diana 'Princess' Lemon and Christopher 'Cannon' Mapp. The only woman in the group, Lemon emerges as a strong-willed, dedicated young woman. With her father in jail for selling drugs and high school daunting, Lemon initially sees the Hip Hop Project as a place to hone her rapping skills, network, and launch her music career. The Hip Hop Project eventually becomes more than that, giving her purpose, direction, but most of all, giving her a stable support group. Mapp shows the rhyming skills necessary to become a successful rapper, but as we learn more about him, we learn that all that bluster hides an insecure, sensitive young man. Abandoned at an early age by his father, Mapp suffered a devastating blow when he learned that his mother had multiple sclerosis. Mapp's mother passes away during production of [i]The Hip Hop Project[/i]. Mapp's maternal grandmother becomes his legal guardian (and his younger sister's), but Mapp and his family face a new crisis when their landlord attempts to evict them from their apartment. Like Lemon, the Hip Hop Project ends up providing Mapp with emotional support otherwise missing from his turbulent life. If [i]The Hip Hop Project[/i] has a lead character or "protagonist," it's Rolle. Rolle's story is every bit, if not more compelling than Lemon or Mapp's. Born in Nassau, Bahamas, Rolle was abandoned by his mother when he was three when she moved to the United States. Rolle moved a lot, living first with his mother's friend, then a state orphanage, and eventually a foster family. At fourteen, he moved to Brooklyn to live with his mother. The effort at reconciliation failed badly. Homeless, Rolle got by through stealing and hustling. Remarkably, Rolle still managed to get his high school degree from a performing arts school. Three years later, Rolle founded the Hip Hop Project. [i]The Hip Hop Project[/i] also follows the group's first tentative steps toward creating rap lyrics and developing their performing styles. Rolle pushes his students to find their own voices, their own stories and to avoid clichéd stories about money, cars, and women. It takes a while, years actually, but Rolle gets through to them. Eventually, Rolle faces the prospect of finding studio space and time with limited or non-existent resources. Luckily, a fundraiser helps to spread Rolle's efforts through the local media and just when everything looks bleak, a high-profile celebrity unexpectedly steps in to guarantee studio time for the Hip Hop Project to record their CD. While success seems assured for the Hip Hop Project, Rolle's story takes a personal turn when he decides to renew contact with his biological mother. It doesn't go as well as he (or we) hopes, but Rolle pushes forward with his own recording efforts, proposing marriage to his longtime girlfriend (who worked alongside him on the Hip Hop Project), and in a bittersweet moment, leaving the Hip Hop Project in the hands of a successor picked from his students. Post-Hip Hop Project, Rolle went on to start up his own hip-hop record label, Momentum. He also co-founded A.P.E.X., a non-profit organization that holds monthly college prep workshops among its other activities. Rolle is also working on his debut album, [i]Many Faces[/i]. Ultimately, [i]The Hip Hop Project[/i] demonstrates how important after-school outreach programs are and can be, especially in inner-city neighborhoods where unstable families are the norm. Without the Hip Hop Project, it's hard to say where Lemon, Mapp, and the others would have ended up, by choice or by circumstance. Led by the dynamic Rolle, whose simple life philosophy is to move forward and always give back, the Hip Hop Project is the kind of model program needed in inner cities. Thanks to first-time documentary filmmaker Matt Ruskin and his producers, [i]The Hip Hop Project[/i] gives us a chance to see the positive, potentially long-term effects of youth-oriented outreach programs in action.
Mel Valentin
The Hip Hop Project Quotes
There are no approved quotes yet for this movie.
Discussion Forum
Discuss The Hip Hop Project on our Movie forum!