History Of The Eagles: Part 1
(2013)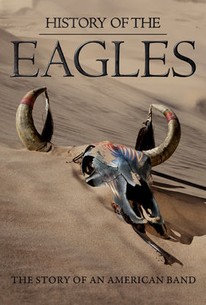 AUDIENCE SCORE
Critic Consensus: No consensus yet.
History Of The Eagles: Part 1 Photos
Movie Info
Don Henley and Glenn Frey were a pair of journeyman musicians -- the former from Texas, the latter from Michigan -- who had been knocking around the Los Angeles music scene for a few years when they were hired to play in Linda Ronstadt's backing band. In 1971, they teamed up with two fellow members of Ronstadt's band, Randy Mesiner and Bernie Leadon, and signed a record deal with a new label being launched on the West Coast, with no inkling that by the end of the decade, they would be one of the biggest American bands of all time. The Eagles would go on to record two of the biggest selling albums of the 20th Century (Hotel California and Their Greatest Hits 1971-1975), redefine the trademark Los Angeles soft rock sound, and create a body of work that became an apt soundtrack for a nation looking to feel good again after the turmoil of the 1960s. Filmmaker Alison Ellwood offers an in-depth look at the early days of the Eagles and their rise to fame in the documentary History Of The Eagles -- Part One, which combines new interviews with the group's members and their associates, vintage photographs, and rare performance footage to tell the story of a band that came to define their time. Produced for the Showtime premium cable network, History of the Eagles -- Part One received its world premiere at the 2013 Sundance Film Festival; Part Two, not shown at the festival, made its cable premiere the same month as the first film.
Critic Reviews for History Of The Eagles: Part 1
Audience Reviews for History Of The Eagles: Part 1
Okay, all jokes aside, Joe Walsh really does kind of look like an eagle now, which is only fitting, because if an eagle were to get any more American, then it would have to have sunglasses, an electric guitar, long blonde hair (Bald is out of stale, baby, and almost extinct) and, of course, a taste for neo-country. I say "neo"-country because I want you to actually think about associating the pop-rock with a twang that we call regular country nowadays with this "rock" band that obviously inspired and try to figure out that it's not real country, which isn't to say that that's the only common misconception about something pertaining to the country rock music industry that people don't ever think about, because, now, I'm not saying that it's become a common mistake to attach the "The" to Eagles' band name, but now, their epic-length, definitive documentary film is titled "History of [u]The[/u] Eagles". Hey, they may as well emphasize that this documentary is about "The", as in definitive, Eagles, because three hours of a discussion about a rock band sounds a bit more interesting than three of a discussion about actual eagles, or, even worse, the Philadelphia Eagles. No, people, football isn't quite as boring as I jokingly say it is, but if I have the opportunity to spend three hours watching people throw around a ball and run into each other, then I think I'd rather spend the time watching people... sit around a talk about some rock songs that inspired neo-country music, because, you know, that sounds infinitely more interesting. Hey, if they really wanted to make this film sound kind of dull, then they should have just titled it "Return to 'Teenage Jail'", because that song is so bland that even the band cut it off after a while to jar into "The Greeks Don't Want No Freaks", which at least tried to keep up liveliness to go along with its cheesiness. Yeah, speaking of boring, I bet y'all are getting a real kick out of my just describing the track list to "The Long Run", so if you want to have your intrigue replenished a bit, then be sure to check out this documentary. That being said, while this documentary is a fascinating one, expect engagement value to go shaken at times for a few reasons. The film is generally tight in its pacing, but we're still talking about three hours worth of material, and with room as hefty as that, the clip is bound to hit a hiccup, and sure enough, while pacing unevenness is relatively rare, it arrives eventually, leaving the film to jar a bit in its jumps between meditative, if a touch aimless, and a smidge to swift in material delivery. Like I said, the moments in which pacing has a slip-up are limited, but when they occur, they leave you to drift away from the material a bit, something that you cannot afford to do when watching a documentary, even if it's one this long, or rather, overlong. Don't get me wrong, I dig the documentary's lengthiness, as it gives you plenty of time to soak up the material and get a feel for everything, but at over three hours, this two-part epic of a rockumentary outstays its welcome a bit, and can sustain lively style for only so long before you begin to notice just how repetitious things get after a while, which in turn leaves you to find a challenge in noticing a sense of direction. The structure of this documentary narrative is focused enough for you to feel the progression in the compelling story being told, but there are times where the film should hit a rise or fall in momentum for dynamicity's sake, but falls short of delivering a kick when it comes to establishing that feel, thus leaving the narrative to continue on its straight course and, after a while, bland up a touch. Structurally, the film isn't as sharp as it probably should be, having some unevenness in pacing, as well as aimless spots and a length that is altogether a bit too hefty for its own good, and yet, in all honesty, these flaws are rarely seen, and when they arrive, they do little damage, thus the final product is most held back by natural shortcomings and, of course, conventionalism. At this point, it can't be easy to make a genuinely unique rockumentary, with even rockumentary epics being done to death, but that doesn't make this film's being fairly formulaic all that forgivable, because at the end of the day, what you end up with is a very good documentary, but one that's kind of formulaic, enough so for you to notice the aforementioned little problems that dilute the final product's full fun factor. With that said, this documentary is every bit as highly entertaining as it is highly informative, and needless to say, this film delivers a lot of information, having its issues and familiar spots, but enough compensation to reward viewers, whether they be Eagles fans or not, which isn't to say that Eagles fans aren't going dig this film as, if nothing else, a showcase of some really good tunes. I wouldn't say that I'm especially animalistic about Eagles, but their diversity, originality and skill are impossible to deny, especially when a streak of simply decent ditties are broken up by a flaunting of the musicians' high full potential within plenty of strong classic songs, a wealth of which is showcased in this film, which reminds you of your favorite Eagles songs, associates some of your favorite Eagles songs with a unique context, and may even reveal some new favorites of Eagles with a soundtrack that is constant and, more often than not, enjoyable, both in its providing fine tunes and helping in defining the tone of this documentary. Eagles has plenty of entertaining music, and such colorful tunes do a lot to drive the heart and entertainment value of this documentary, but not alone, as credit for liveliness is also due to the film's more visual aspects. As well as plenty of nifty tunes, this film flaunts plenty of footage, and plenty of it is kind of immersive, whether it be because of the lovely restoration of archived footage, or because of intimately well-framed new interview footage, maybe even rather clever stylistic plays with the old and new footage to add to the sense of progression within Eagles' story, whose visual telling is about as colorful as its verbal telling. Whether they're being seen as youthful megastars within the archive footage or as the wise, but still highly charming veteran artists that they are by now within the new and thorough interview footage, the band and their peers - from fellow musical artists and various business buddies - anchor strong interview footage, hitting the occasional slow spell as storytellers, but generally delivering on sharp charisma that gives you both more insight into the music legend and a charming sense of intimacy with the amusing, down-to-earth and respectable interviewees. Watching Eagles and company extensively tell the story of music legends is very interesting and charming, adding a lot of down-to-earth color to this intimate study on Eagles, but really, there would be little point to this project if, through all of the charm and entertainment value, it wasn't as extensive as it probably should be, thus they make sure that this film goes all out as an extensive discussion of music legends. Structural issues within the narrative of this film dilute some of the kick of this documentary's informativeness, and when it's all said and done, the film outstays its welcome a bit, but it's hard not to appreciate this film for having the guts to get as extensive as it does when it comes to delivering one piece of deeply fascinating information after another, and in a stylishly edited fashion that keeps entertainment value high and consistent. Director Alison Ellwood's stylish storytelling isn't super-thrilling, but it's a thoroughly entertaining medium for fascinating information, whose obvious inspiration make the final product endearing and rewarding to those looking to either gain more insight into the careers of musicians they've known and enjoyed for years, or get a good idea of what all the hype is about. "In the long run", a degree of unevenness in pacing, repetitious, if not rather aimless dragging and, of course, conventionalism emphasize natural shortcomings that keep the documentary from being especially outstanding, but cannot silence the liveliness within the excellent soundtrack, immersive clever usage of footage, charmingly down-to-earth interviews and stylish, extensive delivery of a wealth of thoroughly fascinating information that make "History of the Eagles" an entertaining and informative study on the influence by, skill of and comradery within legends of mainstream rock music. 3/5 - Good
Cameron Johnson
Super Reviewer
History Of The Eagles: Part 1 Quotes
There are no approved quotes yet for this movie.