Autostop rosso sangue (Hitch Hike)
(1977)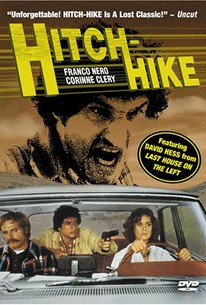 AUDIENCE SCORE
Critic Consensus: No consensus yet.
Movie Info
After becoming a minor cult figure with his role as Krug Stullo in the notorious Last House on the Left, actor David Hess found himself typecast in minor variations of the role for the rest of his career. In this bloody thriller from director Pasquale Festa Campanile, Hess stars as Adam Kunitz, ringleader of a group of vicious bankrobbers who terrorize bickering vacationers Franco Nero and Corinne Clery. There's action, violence, and hard-edged sexual tension aplenty, although Hess' famous fireside rape of Clery is optically censored in some versions. The film, based on Peter Kane's novel The Violence and the Fury, and well scored by Ennio Morricone, still comes across as an attempt to capitalize on Hess' cult status, prefiguring his even more violent Italian films such as La Casa Sperduta nel Parco and Camping del Terrore. Ignazio Spalla and Monica Zanchi also appear. ~ Robert Firsching, Rovi
Rating:
NR
Genre:
, ,
Directed By:
Written By:
On DVD:
Runtime:
Audience Reviews for Autostop rosso sangue (Hitch Hike)
½
This is an Italian movie that stars an Italian actor, a French actress, and an American Actor. The story is set in California but they filmed the whole thing in Italy. It's low budget and as usual in an Italian movie, nobody's mouth moves with the dialog. The story is about a bickering married couple picking up a hitchhiker that turns out to be a bank robber. It was so obvious that it wasn't filmed in the U.S. that they didn't even bother to show it in America. It was shown in Europe and Asia and was very popular. The movie starts with a deer hunt but the deer that is shot is obviously a European deer and not an American whitetail. The first vehicle shown is a left-hand drive Landrover. Landrovers weren't sold in the U.S. in the 1970's. They were an English version of the U.S. Jeep and were used in Africa and Europe. They switched to a Ford car with a trailer. But none of the cars used were American made. At the end of the movie there were teenagers on motorcycles, but they were on Japanese dirt bikes. If you like bad movies this is worth watching, but if not don't bother.
Donald White
One of the best exploitation films I've ever seen,with two of my favorite stars:Franco Nero and the beautiful,sexy and naked Corinne Clery. The movie suck you in and take you on a ride of violence,sex,and savagery,with a few surprises along the way,including the ending. Truly unforgettable,specially Corinne Clery,she's breathtakig! The three main actors are just wonderful! Makes for an awesome ride,...!
Benjamin Zapata
Hitch-Hike isn't an awful movie but not my favorite exploitation/grindhouse movie. If I had to describe it I'd say it's Who's Afraid of Virginia Woolf on a road trip with Last House on the Left in the back seat. And I don't say that because David Hess is in it. Hitch-Hike had some great parts but some pretty annoying ones as well. Like the camping sequence at the beginning that made me grateful I don't really remember the 70s. Hess was fun (or at least as fun as a murdering rapist can be) and the movie had a decent amount of sleaze to it. Catch it if you can...
Michael Gildea
Super Reviewer
Autostop rosso sangue (Hitch Hike) Quotes
There are no approved quotes yet for this movie.