Hitchcock/Truffaut
(2015)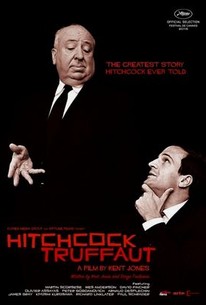 TOMATOMETER
AUDIENCE SCORE
Critic Consensus: Essential viewing for cineastes while still offering rich rewards for neophytes, Hitchcock/Truffaut offers an affectionate -- and well-crafted -- tribute to a legend.
Hitchcock/Truffaut Videos
Hitchcock/Truffaut Photos
Movie Info
In 1962, Alfred Hitchcock and a 30-year-old François Truffaut sequestered themselves in a windowless Hollywood office for a weeklong conversation. The result: the seminal book "Hitchcock/Truffaut," published a half century ago, dissecting every film Hitchcock had made until then, illuminating his masterful techniques, making the case for the popular director as an artist, and influencing generations of filmmakers. Kent Jones brings "the Bible of Cinema" to invigorating life. He interviews filmmakers whose work has been profoundly influenced by Hitchcock-Martin Scorsese, David Fincher, Richard Linklater, Olivier Assayas, and many others.
News & Interviews for Hitchcock/Truffaut
Critic Reviews for Hitchcock/Truffaut
Audience Reviews for Hitchcock/Truffaut
A fascinating listening to the oral history put forward by Hitchcock through his interviews with Francois Truffaut. Visuals are an added bonus.
John Ballantine
Super Reviewer
This is a fascinating look at Alfred Hitchcock stemming from Francois Truffaut's legendary interviews with him, as well as their correspondence and deep friendship afterwards. The book that Truffaut would write about it became a groundbreaking reference book for filmmakers in 1966, and really opened the world's eyes to the artistry in Hitchcock's films. Despite his fame, Hitchcock was known as more as a popular director, and did not get enough credit for his genius. Truffaut, 33 years younger and acclaimed for his first few films which were viewed as 'artistic', idolized the man, and helped change that. The documentary includes Hitchcock and Truffaut's thoughts about clips from his great films, as well as a few snippets of Truffaut's own brilliant work. Just as importantly, it includes commentary from Martin Scorsese, Wes Anderson, Peter Bogdonavich, David Fincher, and many other American and French directors who were interviewed, providing real insight. Interesting to anyone who loves the art of cinema, and very interesting to those who love Hitchcock.
Antonius Block
Super Reviewer
THE MEN WHO KNEW SO MUCH - My Review of HITCHCOCK/TRUFFAUT (3 Stars) When I attended film school at UCLA, one book, which was considered required reading, stood out from among so many others. HITCHCOCK/TRUFFAUT, in which then-burgeoning director, Francois Truffaut, sat down in 1962 in a windowless Hollywood office with Alfred Hitchcock and a translator for a weeklong series of interviews that went film by film through his entire career. Recorded for posterity, think of it as one of the most fascinating podcasts ever committed to tape. Kent Jones' documentary, in turn, feels like required viewing for lovers of the cinema. Using talking heads-style interviews with a great roster of directors including Martin Scorsese, Wes Anderson, Peter Bogdanovich, Richard Linklater, Paul Schrader, and most effectively, David Fincher, the film serves not only as a great document of the interviews, but an inspiring dissection of what makes film the most impactful art form of the past 100+ years. At the time, Hitchcock wasn't taken seriously yet as an artist, his films considered light entertainments, while Truffaut was just at the beginning of his career and also working as a film critic for the influential publication, CAHIERS DU CINEMA. Once they sat down to talk, Truffaut worked his way through Hitchcock's career, film by film, sometimes shot by shot. The level of detail impressed me in the book and made me want to discover my own filmmaking aesthetic. The film shows how he influenced generations of other filmmakers. Additionally, we get the added treat of hearing bits and pieces of the interviews, though at times the intrusion of the translator became distracting. It's a small price to pay for the little gems in this film. Yes, Hitchcock thought of his actors as cattle and you hear in his own words how he didn't really care what they thought. Despite this, the man had an obvious enthusiasm for his work and took great pride in those moments of pure cinema in his films, such as the famous shower sequence from PSYCHO. Sadly, we learn very little about Truffaut in this documentary. I found it fascinating that his own films never felt Hitchcockian despite his obvious admiration for the man's work, and I would have loved to have known why. I suppose you can be a fan without feeling the need to be a copycat. Hitchcock demonstrated a great grasp of geography within a scene, how to establish his characters through point of view, and how to achieve a window into their psychology, sometimes without having them utter a single line of dialogue. HITCHCOCK/TRUFFAUT may be one only for fans and film students, but anyone who loves great, cinematic storytelling may find value in this swift, lovely primer on the subject.
Glenn Gaylord
Super Reviewer
Hitchcock/Truffaut Quotes
There are no approved quotes yet for this movie.
Discussion Forum
Discuss Hitchcock/Truffaut on our Movie forum!