Hitler: A Film From Germany (Hitler - ein Film aus Deutschland)
(1978)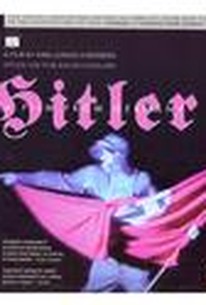 AUDIENCE SCORE
Critic Consensus: No consensus yet.
Movie Info
This seven-hour long epic completes the "German Trilogy" of Hans-Jurgen Syberberg, which began with his meditation on the life of Ludwig II of Bavaria and continued with a biography of popular writer Karl May. In this film, he explores the factors in the German psyche which sought for and then deified a man like Hitler. Using absolutely no archival footage from the Nazi era, this highly symbolic and poetic film explores German culture and history. At times, Hitler is depicted as a toga-clad spirit, quoting Richard Wagner, and at times he appears in other guises -- all of them critical to understanding his role in the German mind, and hence to understanding the phenomena which caused the German people to support him. The film uses transcripts from radio broadcasts made during the Nazi era to underscore the importance of radio in unifying the nation at that time. Hitler: ein Film aus Deutschland was made to run in four segments on German, British and French television. The segments were titled "The Grail," "A German Dream," "The End of the Winter's Tale," and "We Children of Hell." Understanding that evil is clearly the purpose of this epochal and difficult film, the director said that, "It is easy to understand the revolt of slaves but difficult to comprehend the evil of tyrants." ~ Clarke Fountain, Rovi
Critic Reviews for Hitler: A Film From Germany (Hitler - ein Film aus Deutschland)
All Critics (2) | Top Critics (1) | Fresh (1) | Rotten (1)
The emotional satisfaction that Syberberg appears to derive from this kind of reflection makes my skin crawl, but its defeatist vanity and absolutism may help explain the cult appeal of the otherwise inexplicable New German Cinema.
Washington Post
Top Critic
A great showman, Syberberg presents four sweeping bonanzas of perorations, allusions, gags, mental states
Audience Reviews for Hitler: A Film From Germany (Hitler - ein Film aus Deutschland)
½
Essentially a 450-minute performance art style work that attempts to find Hitler's place in the universe. How he relates to German culture, world history, film, German identity... even astrology. It's a massively ambitious project, one that requires stamina not only to endure the length, but also the depth. Most of the film plays out as a series of monologues against a backdrop of projected historical footage or still images. Sometimes it's very mundane, sometimes it's highly philosophical or abstract. In one 40-minute sequence, we hear from Hitler's valet about his dressing habits and morning routine. This was actually a pretty interesting bit of reportage to me. In another 40-minute sequence, a man at a desk reads from prepared text about... hell, I don't even know. It was a lot of rambling. This is my problem with the film. The more "arty" and presumably meaningful it got, the more I tuned out. I was interested in the details, but not Syberberg's ideas about the big picture. It felt like a messy, confused jumble of things... not hastily written, but perhaps not that well planned, either. I feel some guilt about being bored by it, as if I simply wasn't smart enough or educated enough to appreciate it. Maybe that's true. I was intrigued by some of it, but I think I would have absorbed it more as a series of short films rather than a huge epic.
Martin Teller
WOOOOOOOOOOOOOW! One of the most misunderstood films by a controversial artist about a that guy known as Hitler. Set your mind controls for almost seven hours of no less than a fantasy! "One of Europe's boldest and most controversial film and theatre directors, Syberberg has devoted much of his career to exploring the roots of his native Germany's tragic destiny in the 20th century. His earlier films, Ludwig, Requiem for a Virgin King, and Karl May, developed the form of "montrous monologue", which culminated in a unique co-production by Europe's three leading broadcasters in 1977. Syberberg believes Hitler is the subject of our century, and one that needs to be explored at many levels, so that we can discover "the little bit of Hitler in all of us". Here we meet Hitler in many guises: as a ventriloquist dummy, Mr Punch (with Eva Braun as Judy), Napoleon, Chaplin's "Great Dictator", in a film which tries to combine the epic theatre of Brecht with the musical aesthetic of Wagner, and is also a film about the power of cinema itself." (www.subcin.com)
Dr. AlphonSeuss
An intimidating work of art. Susan Sontag, when seeing it, said it had the feeling of being bigger than a film. She spoke the truth. At four and a half hours, it is set only on a stage but has the subject of Germany and the world at its hand. This is a film essay, but is dense with puppetry and other visual creations.
Kevin Pearson
Hitler: A Film From Germany (Hitler - ein Film aus Deutschland) Quotes
There are no approved quotes yet for this movie.
Discussion Forum
Discuss Hitler: A Film From Germany (Hitler - ein Film aus Deutschland) on our Movie forum!