Hitori musuko (The Only Son)
(1936)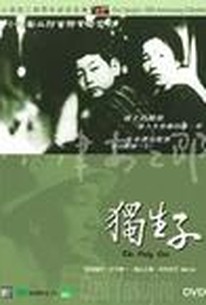 AUDIENCE SCORE
Critic Consensus: No consensus yet.
Hitori musuko (The Only Son) Photos
Movie Info
A good-natured mother gives up everything to ensure her son's education and future.
Rating:
NR
Genre:
, ,
Directed By:
Written By:
In Theaters:
On DVD:
Runtime:
Studio:
Criterion Collection
Critic Reviews for Hitori musuko (The Only Son)
All Critics (3) | Top Critics (1) | Fresh (3) | Rotten (0)
Ozu distills a lifetime of silent misunderstandings and muffled frustrations in a painful succession of false smiles and showy courtesies ...
... the level of disappointment and despair in this film is unusual and devastating.

It's the noted director's first talkie and one of his best signature family dramas.

Ozus' World Movie Reviews
Audience Reviews for Hitori musuko (The Only Son)
Thematically and emotionally complex, Ozu's jump to talkies proved auspicious with this wonderful drama, simultaneously tragic and hopeful. Ozu's direction is refined from his silent features, and the film never resorts to melodrama because of it. Chôko Iida gives a sympathetic but restrained performance that really sells the film's final moments.
Gabriel Deitz
½
Seeking What's Best I realized the other day that I can name three Japanese directors without having to look them up. One, of course, is the great Akira Kurosawa. The second is the great animation director Hayao Miyazaki. The third, the director of today's film, is Yasujirô Ozu. I must confess that, while I can see the skill in Ozu's films, he's not one of my favourites. The films themselves are very well done. Beautiful. I can very much see the connection between them and Japanese paintings, for example. However, his plots are less interesting to me than Kurosawa's. There is a sameness to them, as if he is exploring the same idea from different perspectives over and over again. The idea was interesting enough the first few times, but I've gotten a bit tired of his explorations. There are thousands of movies out there I haven't seen; I don't need to watch the same one over and over again. In this instance, we are examining the story of Tsune Nonomiya (Chôko Iida). She is a poor widow who works in a factory and has care of her son, Ryosuke (Masao Hayama). She worries that he will have to start work himself, that she will not be able to afford to send him to middle school, much less anything higher. However, she is also certain that it is the only way he is ever going to make anything of himself, so she scrimps and saves and even sells the land Ryosuke's father left them so that she can afford to keep him in school. And over the years, she does not hear as much from her son as she would like, but neither does she lose her pride. After thirteen years, she goes to Tokyo to visit him. He has grown into Shin'ichi Himori, a night school teacher. He is also married to Sugiko (Yoshiko Tsubouchi), and they have a young son. He hadn't wanted to tell his mother about any of this until his life had stabilized, but her visit takes that option away, and Ryosuke is forced to consider things he hadn't wanted to. I do feel sorry for Ryosuke. I mean, it's hard to realize that your life hasn't gone according to plan, and it's worse to realize that you've basically let down someone willing to sacrifice everything for you. Even before he found out she'd sold the land, he knew that his mother had given up a lot for him. I mean, he had to know that even just sending him to Tokyo was a sacrifice to her--that she would have wanted to keep him around if she thought it would have been as good for him. While "night school teacher" is hardly the worst job out there--in 1936, he can really count himself lucky not to be in, say, Manchuria--it isn't as high as his mother had hoped he would rise. He can't really afford to live in the manner he thinks his wife and son deserve. He doesn't think what he's done is worth his mother's sacrifice. He's not sure he's even worth his wife's sacrifice; he probably believes that she can do better, too. The advantage of time lets us be aware that things are probably going to get a whole lot worse for pretty much everyone concerned. O-Tsune works in a factory; her factory, even though it's in a rural part of the country, will probably get bombed. If Ryosuke's wife and child are in Tokyo during the war, their odds of surviving in good shape are not great. As little as they have now, they will probably end the war with less. Ryosuke is an educated man, and perhaps that will keep him out of the front lines, but I must admit that I find it a good thing that O-Tsune is as content with her life as it is at the end, because there are all kinds of things that can go wrong with it and prevent her from living as long and full a life as she otherwise might. It's also interesting to note that, when Ryosuke takes his mother to the movies, it's a German movie that they go to see. The alliance between the two means that there were probably more German films than American in Japan at the time. I do feel that Ozu understood people, perhaps just as well as Kurosawa. The disappointment, pride, concern, love that the characters show always rings true. Ryosuke wants to show his mother a good time; he wants to show her all the best of Tokyo, even though he can't really afford to. On the other hand, O-Tsune just wants to see her son at long last. She'd probably be perfectly happy to just sit around and talk, maybe hold her grandson for a while. She doesn't need to see all of Tokyo, though seeing some of the city isn't a bad thing, either. A walking tour alongside her son? The best of both worlds. Both Ryosuke's wishes and O-Tsune's are completely understandable. (Sugiko remains such a cipher that I'm not even certain I have the right character.) In the end, I believe why everyone behaves the way they do. I just didn't get all that into the story.
Edith Nelson
Ozu's first talkie sets the stage for his postwar career: the somber parent/child drama, his particular style of using music, those unmistakably Ozu transitions, the buried emotions, the big moments we never see. If you like later Ozu, you'll probably like this. The only major difference is that it's somewhat more overtly political, with its clear commentary on the economic state of the nation and its impact on the family. There are a couple of very moving moments, and overall I enjoyed about as much as I've enjoyed the rest of his work. It's funny, almost every time I watch an Ozu film, it's like I'm just teetering on the edge of becoming a huge fanatic. I really don't know why I'm quite there yet (maybe the repetitive nature of his filmography, but I do see and appreciate the subtle differences). It's going to happen someday though, I feel it.
Martin Teller
Hitori musuko (The Only Son) Quotes
There are no approved quotes yet for this movie.
Discussion Forum
Discuss Hitori musuko (The Only Son) on our Movie forum!