Hobgoblins
(1988)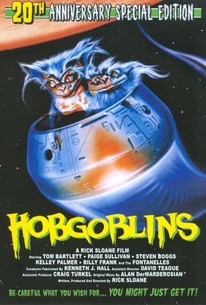 AUDIENCE SCORE
Critic Consensus: No consensus yet.
Movie Info
This film is set in a dusty old movie studio. Years earlier, a horror film had been in the works, but production had suddenly and mysteriously shut down. The reason becomes obvious when the title characters escape from the studio vaults. Chaos ensues, not to mention panic and havoc.
Rating:
R
Genre:
, , ,
Directed By:
Written By:
In Theaters:
On DVD:
Runtime:
Studio:
All Channel Films
Audience Reviews for Hobgoblins
It's so bad, it doesn't even worth to talk about this.
Lucas Martins
Super Reviewer
"Hobgoblins" is basically the demon spawn of some sort of unholy trinity consisting of "Gremlins", "Killer Klowns From Outer Space" and "Troll 2". If community theater acting had Razzie Awards, this would get laughed off the stage. Featuring some of the worst fight scenes ever recorded on camera, and some of the worst acting this side of "Manos: The Hands of Fate", this movie is a strong contender for a spot on the Worst Movie Ever Mt. Rushmore. Hobgoblins starts off in a dusty old movie studio, where a crotchety old guard has diligently laid watch over a secret that lies inside for decades. His secret is a group of hobgolbins, a blatant ripoff of Gremlins, that crash landed on earth who are so dangerous that it necessitates confining them inside a huge bank vault, but one that doesn't feature as much as a zip tie or shoe lace to actually secure the vault closed. Naturally they get out because of a series of inept guards, and they wreak havoc on the town, getting inside the minds of idiot teenagers and getting them to behave recklessly and ultimately die by making their fantasies seem like they're coming true. Everything culminates at a public access version of the "Road House" bar, and the teens must work together to destroy the hobgoblins and break the spell they have on the minds of everyone inside. It's terrible. Just terrible.
Larry Cenotto
This is seriously-- I cannot-- I mean, it's just so... The only reason I could sit through this mess was because of the MST3K commentary but even with it the movie too abysmal to tolerate.
Quinto Wallight
Super Reviewer
Hobgoblins Quotes
There are no approved quotes yet for this movie.