Holding Out
(2001)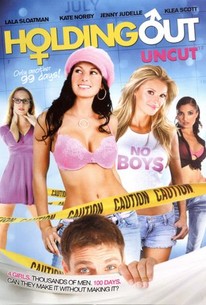 AUDIENCE SCORE
Critic Consensus: No consensus yet.
Movie Info
Four female business owners pledge to abstain from any interaction with the opposite sex for 100 days in this battle of the sexes comedy featuring Jeremy Sisto, Bruce Davison, and Lin Shaye.
Rating:
R
Genre:
Directed By:
Written By:
On DVD:
Runtime:
Studio:
Maverick Entertainment Group
Critic Reviews for Holding Out
There are no critic reviews yet for Holding Out. Keep checking Rotten Tomatoes for updates!
Audience Reviews for Holding Out
½
The raunchy sex comedy is typically a male dominated genre, but every once in a while one emerges told from a female perspective. "Holding Out" is the latest such endeavor, and it's not nearly raunchy or funny enough to be even remotely successful. This same story has already been told from a guy's point of view in "40 Days and 40 Nights" so there's nothing particularly fresh about this. The script is excruciatingly dull as it sets up the premise and then fails to follow through with anything new or innovative, and while the five female leads are all attractive enough their characters are not very interesting. In fact, everything about the films feels generic, including the title which was inexplicably changed from "Manfast", Now, there's absolutely nothing to distinguish this from a dozen other movies. The picture isn't nearly as daring as it needed to be. In reality, it's quite tame despite the fact that it takes a weird twist at the midway point when Bruce Davison shows up and offers a million dollars to encourage anyone and everyone to have sex with his daughter. And even that's not inherently funny, just uncomfortable and awkward. I guess I have to give the film credit for having more of an indie vibe rather than a low-budget feel to it, but the whole thing is so bland that it never really matters much. And if this is the "unrated" cut as the DVD practically screams it is, I'd hate to see how sanitized and boring the rated version is. "Holding Out" isn't so much bad as it's lazy and forgettable. It's definitely not as sleazy (or as funny) as it should have been.
Timothy Sanders
This was the most supidest, dumbest, and pointless movie ever. It was so gay it made me so mad!! I stopped watching it after the 1st hour because it was dumb as hell. There are terrible actors, and a bunch of fire crotches. The editing sucked even more and it was so freaking gay I can't even explain how much I hate this movie!!!!!! Don't watch it unless you're tryin to fall asleeep !!!!!!
alyssa m
This was one of the worst movies I have ever seen. There is nothing much new here that was not already done in 40 Days and 40 Nights, only now it is women on a fast from men. The script was boring and trivial. The script was endless and yet said nothing. It failed to convey its message. It certainly made men and women, look pretty stupid. Some nice camera work and a fine performance by Six Feet Under's Jeremy Sisto can not compensate for a truly amateur script and heavy overacting by most cast members. Some of the actors did not seem to be real actors. They were just reading lines. Considering that this movie was filmed in Tallahassee, Florida where Florida State University has one of the best movie and theater schools, you would think the filmmaker would have found more actors and technical staff. In addition, unless you live in Tallahassee, much of the movie will mean nothing to you.
Steven Vincent Gee
Super Reviewer
Holding Out Quotes
There are no approved quotes yet for this movie.