Holding Trevor
(2007)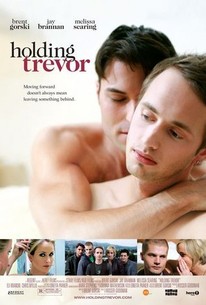 Movie Info
Everybody's looking for something. Trevor Holden is desperately looking for himself in all the wrong places--or maybe just in all the wrong people. It's pretty safe to say that he won't find enlightenment in his strung-out boyfriend. And, despite the well-meaning advice offered by his sexually promiscuous best friend and his self-righteous roommate, Trevor still seems to come up short. Almost ready to throw in the towel, Trevor happens upon Mr. Right, who refuses to let Trevor give up just yet. But, sometimes, a step in the right direction means forging a whole new path. "Holding Trevor" is continually poignant, relentlessly self-deprecating, and just the type of cerebral dark comedy that can speak directly to the 20-somethings of today while letting other generations in on the joke.
Critic Reviews for Holding Trevor
Audience Reviews for Holding Trevor
Everyone is having menstruation in this film. A pretentious film about a man who can't choose between staying with his drug addict lover or move on with a handsome doctor. At the same time, his slutty friend and their faghag are telling consoling him to make his decision. Yeh Jay Brannan can sing beautifully but the acting was dreadful (almost entirely non-existent) The storyline was really silly, there was no drama, just bitching.
Sylvester Kuo
Super Reviewer
Holding Trevor Quotes
There are no approved quotes yet for this movie.