Hål i mitt hjärta, Ett (A Hole In My Heart)
(2004)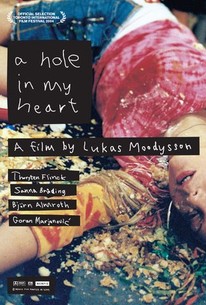 Movie Info
Lukas Moodysson wrote and directed this disturbing and controversial allegorical drama. Eric (Björn Almroth) is a teenager who lives in a shabby flat with his father, Rickard (Thorsten Flinck). Eric spends most of his time holed up in his room, blaring industrial music in order to drown out what's going on around him. Eric has just cause to be a bit disturbed by his surroundings -- Rickard is an amateur filmmaker specializing in extreme sex videos, and he's taken over the living room, where his emotionally disturbed friend Geko (Goran Marjanovic) and a blank young woman named Tess (Sanna Bråding) are "starring" in his latest project. As shooting progresses over the course of several days, Rickard and his cast lose track of the outside world and become increasingly desensitized to their own decadence. As the sexual play becomes more and more extreme, edging into violence, Eric feels no choice but to intervene. Both celebrated and criticized for its unflinchingly explicit sexual content, Ett Hål I Mitt Hjärta (aka A Hole in My Heart) received its North American premier at the 2004 Toronto Film Festival.
Rating:
NR
Genre:
, ,
Directed By:
Written By:
In Theaters:
On DVD:
Runtime:
Studio:
Newmarket Films
Critic Reviews for Hål i mitt hjärta, Ett (A Hole In My Heart)
Audience Reviews for Hål i mitt hjärta, Ett (A Hole In My Heart)
½
Aside from the (female) friend that recommended the film to me, I can't think of a single person in my life that I could encourage to watch this. It felt way more profound than the typical experimental film... but is definitely not for the faint of heart or even the average "challenging cinema" crowd. It's about as unsettling as they come, but Moodysson (who's always humane) finds some way to ground even this in compassion.
Justin Williams
Probably the most pointless and irritating watch since Gummo. The film has nothing to say, or anything entertaining to offer. We are assaulted by a stream of unconscious, disgusting visuals. The film is also mindlessly repetitive and just becomes like a scratched CD of some cheap erotica. Moodysson ventures into the world of the experimental, but instead, just insults everyone's intelligence. Art has to say something, and if it wants to depict the harshness of humanity, there should at least be some sort of emotional focus point. Without the emotion, it's just three people in a room, being disgusting.
Luke Baldock
Super Reviewer
½
Definitely not easy watching, and not for everyone. This movie is about four pretty screwed up people. A young girl who is so demented her main tragedy in life seems to be not getting onto Big Brother, gets involved with two low life guys, (one of whom you are meant to have sympathy for because it turns out he was molested as a child by his father), both pretty damn unlikable, who are making a porn movie. While this girl is getting degraded in all manner of ways, yet still either so self loathing or desperate for fame, (which it is not clearly spelt out here), that she keeps coming back for more and alternates between hating and loving her abusers, the emo teenage son of one of the guys has fallen in love with her. I could not honestly say I enjoyed this as it really is pretty horrible, but I could not turn it off either.
Nicki Marie
Super Reviewer
Hål i mitt hjärta, Ett (A Hole In My Heart) Quotes
There are no approved quotes yet for this movie.
Discussion Forum
Discuss Hål i mitt hjärta, Ett (A Hole In My Heart) on our Movie forum!