Holiday
(1938)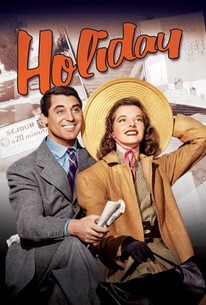 Movie Info
Both film versions of Phillip Barry's stage comedy +Holiday have their merits, but the 1938 version has the added advantage of supercharged star power. Katharine Hepburn and Doris Nolan play Linda and Julia Seton, two daughters of a very well-to-do family. Linda feels a bit lost in the shuffle as sister Julia prepares to marry self-made financier Cary Grant. Hepburn has always rebelled against her privileged trappings, and finds a kindred spirit in the unorthodox, iconoclastic Grant. On the verge of compromising his down-to-earth values with his marriage to the wealth-obsessed Nolan, Grant chooses instead to plight his troth with soul-mate Hepburn, celebrating his "liberation" by doing several cartwheels. Donald Ogden Stewart is careful to bring the pre-Depression frivolities of the Barry play up-to-date, first by changing the character of Grant's best friend (played in both films by Edward Everett Horton) from a lazy socialite to a dedicated professor, and by including several lines indicating how out of touch the privileged classes are--and choose to remain--with 1930s realities. The only element in which the remake does not improve on the original is in the casting of Hepburn's alcoholic younger brother; charming though Lew Ayres is in the 1938 film, he is still outclassed by Monroe Owsley in Holiday (1930). Katharine Hepburn managed to temporarily defray her "box office poison" onus when Holiday proved to be a success; alas, her next film, Bringing Up Baby (which reteamed her with Grant), was a financial bust, compelling her to return to Broadway--where she made a spectacular comeback in another Philip Barry play, +The Philadelphia Story.
Critic Reviews for Holiday
Audience Reviews for Holiday
½
Ahead of its time, this romantic comedy suggests that happiness may be found in freedom, away from the pernicious wealth of high society - but it is also a bit naive, reducing the complexity of its themes to matters of right and wrong while ending with an easy, predictable resolution.
Carlos Magalhães
Super Reviewer
½
A self-made man is engaged to an upper class lady, but will the impending marriage cause him to betray his dreams? Cary Grant and Katharine Hepburn have never been more delightful. Their performances, in that quick and lively manner of old cinema, flies off their tongues. The plot and "message" of the film is that one should always "follow one's dreams," and while that's not a new story, it will never be old. Overall, this is a wonderful time at the movies, and Grant and Hepburn are in top form.
Jim Hunter
Super Reviewer
½
Cary Grant plays an up and coming self-made man who falls in love with a girl who unbeknownst to him, is a debutante and member of one of the wealthiest families in the country. Combining romance, sparkling dialogue and social commentary, it comes as no surprise that Holiday was created by much of the same team who brought us Philadelphia Story two years later. With the same director, writer and the star power of Hepburn and Grant, there's much common ground between the two films but although it's not quite in the same league as the later film there's still much to admire about it. Hepburn has never been more vivacious as the rebellious would-be sister in law of a charming and carefree Grant who finds in her a kindred spirit which causes complications in this stuffy social environment. They are aided by a fine supporting cast including Lew Ayres who provides comic relief as her soused but perceptive brother and Binny Barnes and Henry Daniell as the awful socialites who represent the kind of people Grant is seemingly being strong armed into marry into. Breezy, charming and full of enjoyable dialogue and likeable characters, Holiday may not be as well known as some of the other comedies of manners of the golden age but is certainly worth looking up if it's a genre you enjoy.
Holiday Quotes
| | |
| --- | --- |
| Linda Seton: | And if, when he comes back, he wants to sell peanuts, oh, how I'll believe in those peanuts! |
| | |
| --- | --- |
| Johnny Case: | [upon seeing the mansion for the first time] Judas! |
| Maid: | I beg your pardon? |
| Johnny Case: | Er, I just said Judas. It didn't mean anything. |
| | |
| --- | --- |
| Johnny Case: | When I find myself in a position like this, I ask myself what would General Motors do? And then I do the opposite! |