The Hollow
(2004)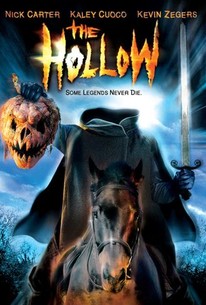 AUDIENCE SCORE
Critic Consensus: No consensus yet.
Movie Info
When a U.S. congressman's daughter passing through a small town in Mississippi dies in a mysterious triple homicide, a team of F.B.I. agents descends to investigate, the team's brilliant but jaded lead agent battling demons both past and present, as his beautiful, tough-as-nails partner tries to hold him and the case together. They find a struggling and corrupt sheriff's department, a shadowy and much-feared figure, who seems to be pulling all of the town's strings from his mansion on the edge of town and a local victim with a strange connection to a number of the town's most prominent figures
Rating:
R (for some scary images and sexuality)
Genre:
Directed By:
Written By:
In Theaters:
On DVD:
Runtime:
Studio:
Critic Reviews for The Hollow
There are no critic reviews yet for The Hollow. Keep checking Rotten Tomatoes for updates!
Audience Reviews for The Hollow
½
So I watch lots of direct to video garbage, so I know what I'm talking about when I say this is actually better than most of the cheaply made horror crap. The quality is just that much higher. Specifically the sound editing, which is pretty good and better than most direct to video movies you've never heard of. Now, that disclaimer out of the way, I know this film isn't perfect, but let's look at the positives: The cast has some highlights with Kaley Cucuo, Judge Reinhold, Eileen Brennan, and Stacy Keach. Good to see familiar faces in a movie that normally is padded out with no namers. The main thing I liked about this film is that it felt like a PG-13 extended episode of "Are You Afraid of the Dark?". The tale is your typical Halloween fair: It's Halloween and the descendant of Ichabod Crane is haunted by his family's nemesis for a final showdown. But to spice things up we get some light cussing (no f-bombs, but some s-words and b-words) and lots of sex jokes/references. There's no overt sex (There's a brief nip slip, but that's all you ghouls are going to get), in fact, I'm surprised this got an R-rating, it's clearly a PG-13 at the most... There's a body count and the film shows some blood, not on par with other horror films, but enough to keep it out of the TV-rating range. I was entertained. A fun, brief (hour twenty run time) Halloween movie tale. As we are amping up to Halloween, this is a perfect warm up movie toward the beginning of the countdown. Uh, the bad? It is straightforward. There's not a lot to overly complicate it, but also nothing much to make it stand out. There's a few plot holes if you think about the film... which we are all best not to do. Nothing too bad that would make me give it a lesser rating however. A solid better than average!
Robert I (Master of All Movies)
My favorite so-bad-it's-good SiFi original tv movies. The plot is actually really good, for those (like me) that love the story of Sleepy Hollow. The film has two great leads, Kevin Zegers and Kaley Cuoco, but Nick Carter basically plays himself as more (or less) of a douche. There is also a very, very short, but nice appearance from Joseph Mazzello. The effects and dialogue are cheesy, but the film does have its moments of suspense. Very original take on a classic legend.
Haley Anderson
Super Reviewer