Hollow Reed
(1996)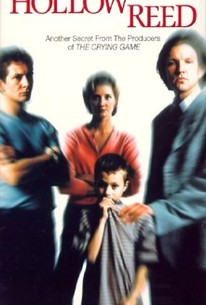 Hollow Reed Photos
Movie Info
Violence and anti-gay prejudice combine to make a heated custody battle all the more ugly in this tense domestic drama. Hannah Wyatt (Joely Richardson) is a single mother who lives with her nine-year-old son Oliver (Sam Bould) and her boyfriend Frank Donally (Jason Flemyng). Hannah was married to Martyn (Martin Donovan), but their relationship ended bitterly when Martyn chose to finally acknowledge his homosexuality and left her to move in with his lover Tom Dixon (Ian Hart). Oliver has suffered several unexplained injuries in recent months, and one day Hannah comes home from work to discover that Frank has severely wounded Oliver's hand when he lashed out with violence over a minor bit of misbehavior. Hannah kicks Frank out of the house, but when he returns -- tearfully begging forgiveness and claiming he'll never hurt Oliver again -- she takes him back. Martyn learns of Frank's violence against his son, and she sues to have full custody of Oliver for the sake of the child's safety. However, Hannah is terrified of both losing her son and being left without a man in her life; she and Frank join forces in court against Martyn, using his homosexuality as their chief weapon against him and trying to poison Oliver's mind with homophobia against his father. Hollow Reed's soundtrack features selections recorded for the film by Elvis Costello, Annie Lennox, and Paul Weller.
Rating:
R (Rated R for violence including child abuse, a strong sex scene and language.)
Genre:
Directed By:
Written By:
In Theaters:
On DVD:
Runtime:
Studio:
Channel 4
Cast
Critic Reviews for Hollow Reed
Audience Reviews for Hollow Reed
I liked this movie. Im glad that the father won custody of his son. I hated that the mother never believe her son.
Ms. Southern Lady
½
It was alright. I really, really hated Frank and Ollie's mom. She was absolutely disgusting. If she KNEW her kid was being abused by her boyfriend, why the heck wouldn't she leave him until AFTER the court gave custody to his father? Awful. I also hated her lawyer. He was disgusting. Ollie's dad's orientation was irrelevant to his ability to care for him - he was just a homophobe who brought his prejudice to the case and purported it as fact. Disgusting. I think the movie would've been better if it didn't end so abruptly. Or maybe if it spent more time exploring Ollie's emotions - obviously he doesn't want to be in an abusive situation, but he said he still wanted to live with his mom, but also with his dad. So is he happier with his dad now that he's with him (yet he has sole custody so he is not also with his mom)? It's kind of unclear.
Allegra F
A decent film made of quite a good screenplay for 1990s, might be even for today. Simple black & white only happens in fairy tales. A hard-pushing biological father, a love-blinding mother, an irritable step-father & an 'innocent' son. The queer is the only positive figure in the whole film: Hallelujah!
WS Wu
Discussion Forum
Discuss Hollow Reed on our Movie forum!
News & Features