Holly
(2007)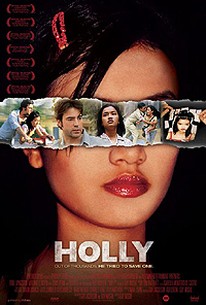 Movie Info
Set in Cambodia, depicts child prostitution through the non-sexual, complex relationship between Holly, a beautiful 12-year-old Vietnamese girl, and Patrick, an obsessive 40-year-old American stolen artifacts dealer.
News & Interviews for Holly
Audience Reviews for Holly
This was a weird story that was hard to watch. Their really was no heroic story here. Everything that Livingston's character did was sporadic and pointless.
Heather Metzger
I'm torn about this movie. On one hand, it is a very interesting production and well thought out story. On the other hand, it is a very blatant soapbox preaching session of a movie. It gets a little awkward when it transitions between, but is successful enough. However, I think this also makes you think and assume that the movie is going in one direction and kicks to another. And that isn't such a bad thing. It has wonderful acting by everyone, even the supporting players. The girl is amazing and Ron Livingston really surprises with how great he can be. It is an obvious real world setting and production doesn't suffer. And the script really does take you through a journey with twists and turns. The only real faults, again, are that it gets a slight bit heavy handed when it wants to make a point (though those points need to be made with such a horrible subject that happens way too often) and point the finger at people who participate. AND IGNORE, which it does in a very interesting way to point out in this movie. It is effective, but also comes off a little cheesy. The other fault is that it takes the other lead, Livingston, and tries to get you to identify with him, but then takes him through a journey where they say he just keeps making mistakes. It is trying to point out that these things are mistakes, but it never says that he made the right decision in trying to help. Then, you see how it all goes. In many ways, he is a tragic hero, but also can seem like a fool being played by a system that can't be fixed. However, I recommend this movie because this is a tragedy that shouldn't be ignored and just the effort to make this a subject brought to light for everybody so awareness can lead to help in any way when possible, is important.
Lee B
Not bad. Felt very watered down, but still a good movie raising awareness of child prostitution. The young girl who plays 12 year old Holly is very good, as is Ron Livingstone as the man who tries to help her escape.
Nicki Marie
Super Reviewer
Holly Quotes
There are no approved quotes yet for this movie.
Discussion Forum
Discuss Holly on our Movie forum!