The Holy Mountain
(1973)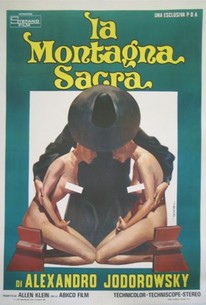 Movie Info
The most powerful individuals in the solar system are out to become gods and rule the universe.
Critic Reviews for The Holy Mountain
Audience Reviews for The Holy Mountain
Like El Topo, Holy Mountain is slow but often poignant. The beginning and ending are both equally stunning, arguably moreso than its predecessor. However, A little editing in between would've gone a long way this time around. There are so many gems, verbal and visual alike, but I couldn't watch it in one setting. So many great one-liners and scenes are all-but-lost in a smattering of pointless dialogue and scenes, namely between the middle and ending. The explanation of the universal journeyman was especially harrowing. Half the time it was funny and interesting and half the time it was simply poorly written and truly unnecessary, and strangely, formulaic. How odd for Jodorowsky! The music was further boring and formulaic, and it takes a lot for me to enjoy a movie with a poor soundtrack. How sad that his Dune production never came to be, that David Lynch and not he, who cared so much more deeply about the project, eventually made the movie. Jodorowsky influenced so many great artistic talents in the process. It's truly horrible that he never got to see his own great masterpiece come to life.
This psychedelic, LSD-induced masterpiece is not only visually ambitious, with an impeccable cinematography and editing, but also incredibly imaginative as it makes use of archetypes and symbolism in a brilliant social commentary, and it is wonderful how the fantastic score helps create the perfect atmosphere in every scene.
Carlos Magalhães
Super Reviewer
½
I've seen some movies that were really bizarre, trippy, drug firendly experiences, but this one might just take the cake, perhaps more so than Eraserhead. Overflowing with sacreligious imagery (that might be shocking, but didn't necessarily offend me personally), and tons of nudity, this is the sort of movie that if I tried to explain the plot (or the semblance thereof), it would only make it sound more ridiculous than it is, and you probbaly wouldn't want to see it. I can definitely say this isn't for all tastes, and I don't even really know for sure what was going on a lot of the time, but I will say that if you like "out there" type of stuff that is art directed to the Nth Degree, and appreciate symbolisn, mysticism, and want to see some really wonderful cinematogarphy and listen to a strangely jarring and ecclectic soundtrack, then you probably should see this at least once if you haven't already. I'm not gonna attempt to explain or describe this, since the internet can do a far better job of that, but I will say that seeing shots of birds fly out of bullet wounds, and amphibians dressed in costumes re-enacting the Spanish conquest of Latin America (and other events) are two things that I never dreams of witnessing, but feel like a better person for havign experienced it. And that's ultimately what this film is; an experience. It's not always pleasant, but it's far from boring, and sometiems even quite dazzling. I'm not entirely sure that Jodorowski isn't full of crap, and he might have been trying a little too hard with this one, but I think it was sorta cool to watch, even if I barely was able to get through it, mostly because I was exhausted and not entirely sure what to expect, but, if in the right frame of mind (and depending on your personal convictions), this might be a really rewarding viewing for the more adventurous of you out there.
Chris Weber
Super Reviewer
Discussion Forum
Discuss The Holy Mountain on our Movie forum!