Home Invasion
(2005)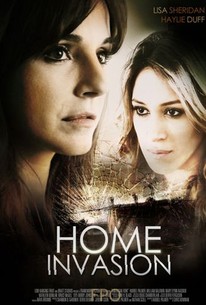 AUDIENCE SCORE
Critic Consensus: No consensus yet.
Movie Info
Her boyfriend killed in a home invasion gone awry, a vengeful vixen (Haylie Duff) befriends the traumatized woman who shot him in an attempt to seek bitter revenge.
Critic Reviews for Home Invasion
There are no critic reviews yet for Home Invasion. Keep checking Rotten Tomatoes for updates!
Audience Reviews for Home Invasion
Someone else pointed out the obvious for this movie and that is the fact that it plays out like a Lifetime TV movie. There's nothing wrong with that in and of itself, but a large part of those films aren't exactly known for their quality writing, acting or cinematography. I'm sure there's some solid enough movies that have been released as Lifetime TV movies, but those never really transcend that low-brow level. And that perfectly describes this movie to me, I have no idea if it was a Lifetime movie or not, but it pretty much plays like one. Don't get me wrong, I like the idea of a woman, whose girlfriend, a thief, was murdered in self-defense during an attempted robbery, becoming friend with the person who murdered her boyfriend and trying to wreak havoc in her life from afar. That idea is, at the very least, a decent one. One that has probably been seen before, but it's a decent one nonetheless. The execution, however, leaves a lot to be desired. The film looks like crap, it looks like it was shot on a $3000 camera. It's just the lowest of the low. The font for the intro credits look like they were from Windows 95. The writing is just dreadful. And the acting is only marginally better than the acting. To me, the best revenge thrillers, which this can, technically, be described as being, feature characters whose motivations that, at least, you can understand. You're not necessarily condoning their course of action, but you can understand why they'd want to take revenge. Oldboy, the original of course, is one of the best examples of this. This movie, on the other hand, fails at that. And I know Haylie Duff's character was meant to be the villain, but she's unlikable in a way that makes me not want to watch her anymore. I just can't understand how her character would justify in her mind that the woman who killed her boyfriend has to die. Her life and her daughter's life was in danger and she did what she had to do. So how does Duff's character not see that? She was clearly never meant to be the most rational or stable of people, but I just found that her character was poorly developed. Everyone's character was poorly developed. The good guys in the film have, literally, no flaws whatsoever. It's kind of nauseating when you see the protagonist, her boyfriend and her adopted daughter all happy, they were just way too perfect, like out of fucking Hallmark card family. Like I mentioned, the acting is only slightly better than the writing, so it's still really bad. I thought Haylie Duff was awful in this movie. Neither of the Duff sisters have ever been known for their acting abilities, but I still thought she was awful in this movie. And, really, when you have C. Thomas Howell, who's built his entire career on appearing in awful movies, then you know you don't really care much about acting as a whole. So, yea, this movie was kind of terrible. Is it the worst movie I've ever seen? No, I think it takes so much more for me to say that. Plus, I tend to be nicer to films like this, where they clearly didn't have a budget. I realize that shouldn't be an excuse, because I've seen plenty of great low-budget films, but it's also unfair to judge this the same way as, say, a film like Transformers. You know those people have the money to make a better movie, they just don't want to. With that said, I still thought this movie sucked and the low-budget is in no way reason to give this a shot. It's got awful writing and acting. Poor execution of a tired concept. Not recommended.
Jesse Ortega
Super Reviewer
Erin Collins
Super Reviewer
Home Invasion Quotes
There are no approved quotes yet for this movie.
Discussion Forum
Discuss Home Invasion on our Movie forum!