Home Run
(2013)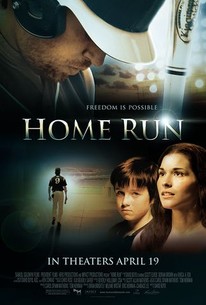 Movie Info
Baseball all-star Cory Brand knows what it takes to win in the big leagues. But off the field, with memories of his past haunting him, his life is spiraling out of control. Hoping to save her client's career and reputation after a DUI and a team suspension, Cory's agent sends him back to the small town where he grew up. Forced to coach the local youth baseball team andspend eight weeks in the only recovery program in town, Cory can't wait to return to his old life as quickly as possible. As his young players help him experience the joy of the game, Cory discovers his need to find freedom from his past and hope for his future ... and win back the love he left behind. With this unexpected second chance, Cory finds himself on a powerful journey of transformation and redemption. Based on thousands of true stories, HOME RUN is a powerful reminder that with God, it's never too late ...freedom is possible.(c) Samuel Goldwyn
News & Interviews for Home Run
Critic Reviews for Home Run
Audience Reviews for Home Run
Leastbound and down, Home Run is a presumptuous title for a sports movie that swings a lot but ultimately chooses to walk the road often traveled. Though this Field of Pipe Dreams recycles an oft-told tale of failure and redemption amid the sporting life, it's not completely For the Flub of the Game. The few plot points not drudged up from movies-of-the-week prove engaging enough to at least encourage moviegoers to round the bases. It would've been more of a hit, however, if it debuted on the Hallmark Channel between a Tiffani-Amber Thiessen bulimia flick and Joey Lawrence date rape movie where it belongs. But here we are, watching an alcoholic big league ball player work out his daddy issues in his hometown where his old flame lives...on the big screen. Hell, Scranton's own E.J. Dougher did more justice to this story when it was called The Marksman! In this PG-13-rated sports drama, a pro baseball All Star facing a DUI and league suspension (Elrod) is forced into rehab where he grew up, getting honest about his checkered past and taking on coaching duties for a misfit Little League team. It's not as if the director and cast don't possess The Natural quality. All involved perform their best at Stealing Home and that's no Bull Durham. Still, every moviegoer knows the Angle in the Outfield here. Hell, when parodied in the hilarious HBO comedy Eastbound and Down, it sadly rings truer. Getting literally preached at from the pulpit, however, never feels like a great night at the movies. Bottom line: Swing and a Diss.
Home Run Quotes
There are no approved quotes yet for this movie.
Discussion Forum
Discuss Home Run on our Movie forum!