Homer & Eddie
(1989)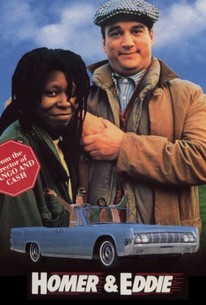 Movie Info
James Belushi stars as Homer and Whoopi Goldberg is Eddie in this road movie from director Andrei Konchalovsky. Homer is a retarded man trying to reunite with his dying father; Eddie is a former mental patient, dying of brain cancer, who accompanies him on the journey.
Rating:
R (adult situations/language, violence)
Genre:
, ,
Directed By:
Written By:
In Theaters:
On DVD:
Runtime:
Studio:
HBO Video
News & Interviews for Homer & Eddie
Critic Reviews for Homer & Eddie
Audience Reviews for Homer & Eddie
There's nothing rare or even unusual about bad movies; they simply are a fact of life and everyone will encounter them, some more than others. Then, in a whole separate category, are movies like "Homer and Eddie" that take being bad to a whole other level, as if being bad were an art form. You simply watch this wondering what everyone involved in it were thinking, as nothing in the film works. It's nearly impossible to conceive any way in your mind where this material could work. The screenplay is a mess and insulting in the way it uses mental retardation as a plot device and as a source of humor in some scenes. And why screenwriter Patrick Crillo thought it was a good idea teaming that character up with a vulgar murderer dying of a brain tumor is beyond my comprehension. Whoopi Goldberg sullies her once good name yet again with this foul, embarrassing performance that makes the worst thing Eddie Murphy even did look like "48 HRS." James Belushi fares a little better, but only because he seems to be completely oblivious to how insulting he is. And then imagine being trapped in a car with these people for an entire movie. Thematically, the movie is all over the map, and the tone shifts uncomfortable throughout. It's hard to feel any pathos for Goldberg as she leaves dead bodies in her wake and then Crillo tries to blame it on her disease, and Belushi is more of a ham and seemingly content with that. It's easier than being subtle. "Homer and Eddie" may very well be one of the most ill-concieved movies of all time.
Timothy Sanders
½
When Homer[James Belushi], a mentally handicapped man set out to find his long lost father, he becomes a robbery victim, and after spending the night in an old Lincoln Continental in a junkyard he finds himself face to face with the mildly deranged Eddie[Whoopi Goldberg]. When she learns of his muggers, Eddie decides to track down the robbers and get her......uh...his money back. What happens then is a very lighthearted and funny series of situations that leads to a bond that no one could steal. This was a well written and acted film that leaves the viewer laughing, and in some cases crying. I recommend this to anyone who enjoys a good lighthearted movie.
Spike Moore
Directed by Andrei Konchalovsky, whose concept of subtlety most people would mistake for a sledge hammer or pneumatic drill. Also its stars seem to be clawing at the screen in hopes of reminding the audience that hey, we're not just comedians.
Lee Mayo
Homer & Eddie Quotes
There are no approved quotes yet for this movie.