Honey, I Shrunk the Kids
(1989)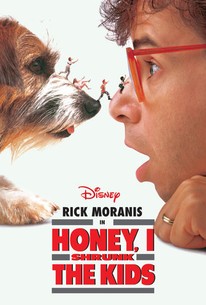 Honey, I Shrunk the Kids Photos
Movie Info
An absent-minded inventor leaves his latest creation, a shrinking ray, unattended in his attic, where it is accidentally triggered by his young children. When the newly tiny youngsters are tossed out with the trash, they must survive the long journey across the lawn to make it home in this fantasy-adventure.
News & Interviews for Honey, I Shrunk the Kids
Critic Reviews for Honey, I Shrunk the Kids
Audience Reviews for Honey, I Shrunk the Kids
Fun, adventurous, albeit a little creepy at times, "Honey, I Shrunk the Kids" is exactly the type of live action film that Disney knew how to do right in the 80's. It is a real shame that Rick Moranis never had that wide of a career, because his films are so much fun to watch. After accidentally being shrunk by their father's invention (the shrink ray) along with the neighbour kids whom they despise, they must trek their way across the lawn to get back to their house. Although you see the end coming from a mile away, this well-written family flick will hold you until the very end, smiling, laughing, cheering, and sending chills down your spine due to it's creepy practical effects. I loved every second of this film, even though it does helm it's fair share of cheesy moments. This cast works great together and the quirky score really elevates it. In the end, "Honey, I Shrunk the Kids" is a blast from the past that has rewatch-ability written all over it!
½
This is the story of a kooky suburban inventor who is absent minded and makes some wonderfully nutty and ridiculous inventions, his latest being a shrink ray. Things get going when his two kids and two neighbor kids accidentally get shrunk down to an approximate height of 1/4" tall and tossed out into the back yard with the garbage. From there, it becomes an adventure of epic proportions as the kids have to deal with things that normally wouldn't seem so hazardous in order to try to get their parents' attention and get brought back to normal size. Parallel to all of this is the story of the adults trying to find the kids once they realize what has happened. I first saw this as a kid and it really blew me away. It still blows me away every time I see it. Sure, it's cheesy, improbable, and really silly at times, but it's a lot of fun, has some great special effects and sets, and is rather witty and creative. It's a tad dated, and some of the jokes get played out and overdone a little much, but overall, this is a rather harmless fantasy adventure. The film isn't perfect, and nostalgia weighs heavily on my grade, but I can't help it. This is just a fine example of taking an old concept, playing around with it, and doing it in a really fun, entertaining, and funny way.
Chris Weber
Super Reviewer
½
An interesting classic with a unique concept.
Scott Green
Super Reviewer
Honey, I Shrunk the Kids Quotes
| | |
| --- | --- |
| Nick Szalinski: | (his father opens his mouth and tries to eat him) Don't eat me!. |
| Nick Szalinski: | [his father opens his mouth and tries to eat him] Don't eat me! |
Discussion Forum
Discuss Honey, I Shrunk the Kids on our Movie forum!