The Honey Pot
(1967)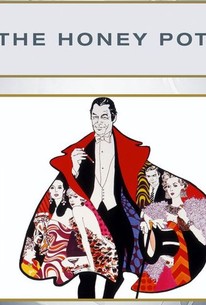 AUDIENCE SCORE
Critic Consensus: No consensus yet.
Movie Info
In this Joseph Mankiewicz comic mystery, a performance of Ben Jonson's Volpone inspires playboy Cecil Fox (Rex Harrison) to pretend he is terminally ill in order to gauge the reactions of his ex-girlfriends. Also titled It Comes Up Murder.
Rating:
NR
Genre:
, , ,
Directed By:
Written By:
In Theaters:
Runtime:
Studio:
United Artists
Critic Reviews for The Honey Pot
Audience Reviews for The Honey Pot
½
A very, very youthful Maggie Smith in a supporting actress role....as she gets swept into a "scripted murder mystery" of sorts....
Actually Contains an Enormous Legal Flaw I'm honestly not sure how this ended up on my Netflix queue. It's in the middle of a whole slew of movies from Roger Ebert's four-star choices, but I'm pretty sure it's too early to be one of them. I'm also not at all sure it's in the right place, given that I dumped them onto my queue in alphabetical order. I will say that I can believe a young Roger Ebert would have given this four stars only to change his mind in later years. Or perhaps having over forty years of perspective allows me to see flaws--or possibly it's another of those "because I'm a girl" things which crops up with depressing regularity. Part of the problem I had with this movie, after all, was its implicit assessment that it was okay for Rex Harrison to use the various women because they were only interested in his money. But it struck me that they always had been, so far as I could tell, and he was okay with that while he was young. Harrison plays Cecil Sheridan Fox, long known to be fabulously wealthy and successful. One day, he decides to stage for himself a real-world production of Ben Jonson's [i]Volpone[/i], which is about a man who informs three friends that he is dying so that they will bring him fabulous gifts in the hope of being named his heir. Fox, therefore, invites three women from his past. There is Mrs. Lone Star Crockett Sheridan (Susan Hayward), a wealthy American. There is Princess Dominique (Capucine), who has married a prince and, it turns out, doesn't have any money. And there is Merle McGill (Edie Adams), an American actress whose career Fox started years before. He hires as his assistant William McFly (Cliff Robertson), an out-of-work actor who goes along with the whole thing. Mrs. Sheridan has brought a nurse with her, Sarah Watkins (Dame Maggie Smith). And while she and McFly are out to dinner together, Mrs. Sheridan is murdered with an overdose of sleeping pills. There's another thing which bothered me about this movie, and I'm going to have to talk spoilers, because it was in the last few minutes. Much ado is made, early on, about how Mrs. Sheridan turns out to be Fox's common-law wife--and the movie carefully establishes that, yes, they meet all the requirements thereof. Heck, the movie even assures us that they lived in a state which accepts common-law marriages, which reminds us that not all of them do. And her being his common-law wife means that she is his common-law husband, which means that he inherits her money. Except that, and here's the spoiler, Fox killed her. And in the US, that means that he wouldn't inherit after all. In the UK, which is the other country where I know what the laws entail, he wouldn't inherit. I find it unlikely that he would in Italy. Just because he has since killed himself probably doesn't mean that his estate would inherit. And so the joke at the end about how inheriting his estate means inheriting hers is simply wrong. I also disliked it because it meant that Fox's worldview was correct after all and that there is no one who isn't grasping and manipulative. Oh, I don't begrudge Sarah her happiness, and after putting up with Mrs. Sheridan's crap, she certainly deserved a share of her estate. But the ending of the movie makes her as manipulative and grasping as everyone else, despite the fact that she was previously the moral center of the film, or at any rate the closest to one it got. The change in her at the end means that she isn't really that much more moral than anybody else--well, except Fox; it's just that she hides it better. And that's a bit unsettling to me. It's not that I believe there's good in everybody; I've known too many people without it. But it's that I believe there is good in somebody, and in this movie, there kind of isn't, unless it's Inspector Rizzi (Adolfo Celi), and presumably we just haven't seen how horrible he is. Oh, the movie is witty enough in places--and extremely aware of that fact. Admittedly, it's an odd assumption that it makes, that everyone is familiar with Ben Jonson. Now, Wikipedia assures us that it is to this day his most performed play, but Ben Jonson isn't exactly performed as often as Shakespeare. (I'd also note that, although various descriptions of the movie accurately refer to the play as Jacobean, all the characters keep calling it Elizabethan. They're only off by three years, but still.) There is also a subtle slam at the movie actress, and I can't decide if it's because she's in the movies or because she's a woman in the movies. Specifically, even though McFly expresses total familiarity with the play and says that every actor knows it--and wants to play the role he has been chosen for--Merle McGill never really catches on, even after it's been explained to her. Okay, she's dumb, but is she able to be because she's in the movies or because she's a woman, and women don't have to know such things?
Edith Nelson
I guess I found out I just don't care much for the lead, Rex Harrison. The movie's premise doesn't work for me, although I know it is a good movie. I had to bail out on it and maybe someday I will return, but I don't believe someone could do this, even in the movies.
monsieur rick
The Honey Pot Quotes
There are no approved quotes yet for this movie.