Honeysuckle Rose
(1980)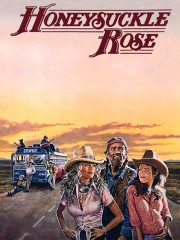 AUDIENCE SCORE
Critic Consensus: No consensus yet.
Movie Info
After displaying his easygoing charm in a number of television appearances and a showy supporting role in The Electric Horseman, Willie Nelson scored his first leading role in this romantic comedy-drama in which he (appropriately enough) plays a musician. Buck Bonham (Nelson) is a country singer/songwriter with a loyal following in his native Texas and the neighboring Western states. However, Buck hasn't yet had the hit record that would make him a star nationwide; in the meantime, Buck and his band keep up a busy tour schedule, much to the annoyance of his wife, Viv (Dyan Cannon), and son, Jamie (Joey Floyd), who would like to see Buck at home every once in a while. As Buck wonders if he should press on with his musical career or call it quits, his close friend and longtime guitarist Garland Ramsey (Slim Pickens) announces he's retiring, and suggests a good replacement -- his daughter, Lily (Amy Irving). Lily had a crush on Buck as a child, and now as a full-grown and very beautiful woman, her infatuation has only increased with time. Consequently, Buck must choose between Viv and Lily as well as his home and his career. Honeysuckle Rose was written specifically for Nelson, and his character bears more than a passing similarity to Willie and his life before the album Red Headed Stranger made him a star; the film also earned Nelson an Academy Award nomination for the film's theme song, "On the Road Again." ~ Mark Deming, Rovi
more
Cast
News & Interviews for Honeysuckle Rose
Critic Reviews for Honeysuckle Rose
Audience Reviews for Honeysuckle Rose
Like a good country song, "Honeysuckle Rose" rolls out all the familiar cliches making for a predictable yet comfortable film that nevertheless doesn't offer up a single surprise along the way. It deals with drinking, music and infidelity and features the acting debut of country superstar Willie Nelson.

He gives a laid-back, likable and natural performance, mostly because he's playing a thinly veiled variation on himself, so it's kind of a stretch to call what he does here "acting". The film features some of the best music he's recorded as a singer, and the songs are easily the best thing about this easy-going picture. In fact, there are times during this movie's second half where the paper-thin plot almost gets in the way of the enjoyable concert footage.

The story is just a vehicle to drive the picture to the next musical number, and all of the conflicts along the way are wrapped up in a tidy, convenient manner in the end. Nelson's co-star Dyan Cannon has some good moments here as his long-suffering wife, but young Amy Irving is terribly miscast as his love interest. She was seemingly cast solely on the basis of her looks. She has a nice singing voice but her performance consists mostly of staring at Willie adoringly in a manner that he mostly ignores until the end when she's completely forgotten about in favor of a happy ending.

The music is the best (and some would argue, the only) reason to see "Honeysuckle Rose", a routine but slightly entertaining country song come to life. It's Willie's show all the way.
Timothy Sanders
Willie Nelson is the star, when did he ever let ya down? One of my top ten favorite movies of all time.
Mandy H.
Discussion Forum
Discuss Honeysuckle Rose on our Movie forum!
News & Features