Hope Ranch
(2004)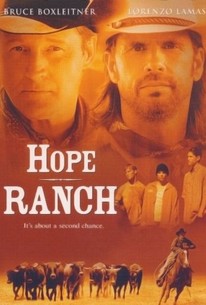 AUDIENCE SCORE
Critic Consensus: No consensus yet.
Movie Info
Not dissimilar to such earlier Hollywood features as Boys' Ranch and Johnny Holiday, this made-for-cable drama stars Bruce Boxleitner as ex-cop and former marine J.T. Hope. The owner of a 2,000-acre ranch in Utah, Hope makes it his mission in life to rehabilitate youngsters who, as a result of their criminal records, have been deemed incorrigible. In this instance, Hope focuses his attention on a trio of street punks, including incipient drug-dealer Keith Frazier (Brian Gross). With the help of his no-nonsense ranchhands Colt (Lorenzo Lamas) and Shorty (Barry Corbin), Hope works the boys hard and long (12 hours a day, in fact), tending the horses, cleaning out the barns, and tackling other such grueling chores -- all the while promising the kids that if after two weeks they have straightened themselves out, they will not have to return to the penal system. At first reacting in horror to the strict regimen of Hope's ranch (one of the teens declares, "What is this? An episode of Survivor?"), two of the boys begin showing signs of redemption, and even begin to enjoy their working vacation in the great outdoors. Alas, Keith proves to be a bigger challenge than Hope had anticipated, especially when the boy steals some horse tranquilizers and escapes into the mountains. One of the first films to be produced exclusively for the Animal Planet cable network, Hope Ranch debuted on September 2, 2002.
Rating:
PG-13 (adult situations)
Genre:
, , , ,
Directed By:
Written By:
In Theaters:
On DVD:
Runtime:
Studio:
Concorde/New Horizons Home Video
Critic Reviews for Hope Ranch
There are no critic reviews yet for Hope Ranch. Keep checking Rotten Tomatoes for updates!
Audience Reviews for Hope Ranch
The story line, while not new or original; was retold in an interesting and ultimately heartwarming way. Bruce's portrayal of ex cop out to help kids, who have fallen foul of the law with his version of tough love, was wonderful to watch. The young actors who portrayed the lost souls were great, and my only criticism is the budding romance between Bruce and June Andersen's characters just didn't fit with the movie. It was neither fully explored or explained. "Hope Ranch" illustrates one way programs can do that by laying out discipline and responsibility on the kids for practically the first time in their lives. They show that through hard work and dedication, kids learn that they really are important and can contribute something meaningful to society.
Danielle S
great movie about second chnaces...loved how the one they thought was notsaveable was the one who wound up staying to help with then next batch of juvie's
Marcie Frank
Bruce Boxleitner really is super as J.T. Hope, a former cop who starts a program for troubled youth on a ranch owned by him. Three kids arrive at the ranch and the program starts out shaky, but they come around. This movie is a well acted drama, the supporting cast, Barry Corbin, Lorenzo Lamas, and Gail O'Grady are awesome too.
Jeffrey McCurdy