Horrible (Rosso sangue) (Absurd) (Monster Hunter) (Antropophagus 2) (The Grim Reaper 2)
(1981)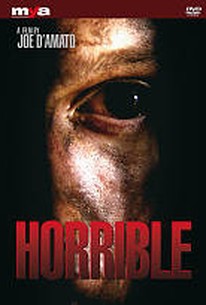 AUDIENCE SCORE
Critic Consensus: No consensus yet.
Movie Info
Aristide Massaccesi directed this gory sequel to Antropophagous under the pseudonym Peter Newton, although he is best known as Joe D'Amato. The plot is styled more after Halloween II than the original, however, as the mutant cannibal (Luigi Montefiore) murders people in a hospital while being pursued by Edmund Purdom (Pieces). Female lead Katya Berger does her best to look menaced, but despite a great deal of gratuitous bloodshed, the film raises few goosebumps. Co-stars Laura Gemser and Annie Belle appeared together in several sex films, notably Velluto Nero and Massaccesi's L'Alcova. EDDE Video tried to pass this and several other unrelated European horror films off as sequels to Zombie in a mid-'90s reissue series. ~ Robert Firsching, Rovi
Critic Reviews for Horrible (Rosso sangue) (Absurd) (Monster Hunter) (Antropophagus 2) (The Grim Reaper 2)
There are no critic reviews yet for Horrible (Rosso sangue) (Absurd) (Monster Hunter) (Antropophagus 2) (The Grim Reaper 2). Keep checking Rotten Tomatoes for updates!
Audience Reviews for Horrible (Rosso sangue) (Absurd) (Monster Hunter) (Antropophagus 2) (The Grim Reaper 2)
½
An Italian Halloween. Semi-sequel to Antropophagus, but these two films do not have much connection. Joe D'Amato lived up to the standard he set for the last film, or even better. Although the plot is still quite dreadful, the gore was enough to compensate.
Sylvester Kuo
Super Reviewer
It is uncertain if Absurd actually is a sequel to Anthropophagus the beast. Many sites will say 'supposed' sequel because there are so many different counters. In Anthropophagus the beast, the Antropophagus beast is is a monster, it does not look like a normal person but in absurd he is just a normal man. Also the Anthropophagus beast is a cannibal but in absurd the killer just seems to murder his victims. Also he was left dead on a Greek island and he turns up in Absurd suddenly in normal clothes and in the U.S. There is no recalls whatsoever from the first movie the priest who is chasing him just says he is a killing machine. The killer in Absurd looks a bit like the beast from Anthropophagus due to the moustache but that is it! Another similarity is it is made by the same directer from Antropophagus the beast. Anaway the story..... The killer (it MITE be the Anthropophagus beast) is injured on a fence at a family home while trying to brake in. He is taken to the hospital where the doctor operating on him is shocked at his ability to recreate dead cells and dead tissue. A police officer (forgot his name) finds a Greek man who is walking out in the middle of the night in the middle of the road. Later on the policeman is at the hospital and finds the Greek man there. The officer puts the two together and starts asking questions (as the killer also comes from Greece, another similarity from Anthropophagus) about who he is and what he is trying to do. It turns out he is a priest and is here to stop the killer. Meanwhile, the killer awakens, kills a nurse by drilling a whole slowly through her brain, and then pops off for a killing spree. In the meantime people are cooked, heads chopped off, hacksaws through skulls and people are strangled and beaten. This movie would easily make an uncut 18 certificate (appealing to UK readers who films like this are always cut or banned) and is on the list of infamous Video Naties. It has never been re-issued but was released on VHS with an X certificate and is now extremely hard to get hold of.
Cassandra Maples
Super Reviewer
½
This pseudo sequel is like the italian version of ¨Halloween¨ but extremely gory and explicit. The acting is not the best; the last 30 minutes are very atmospheric and suspenful and the last scene was good and odd. Very recommended to gore fans.
Horrible (Rosso sangue) (Absurd) (Monster Hunter) (Antropophagus 2) (The Grim Reaper 2) Quotes
There are no approved quotes yet for this movie.