The Hamiltons
(2006)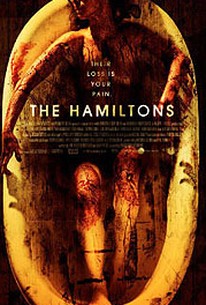 AUDIENCE SCORE
Critic Consensus: No consensus yet.
Movie Info
Mitchell Altieri and Phil Flores (aka the Butcher Brothers) break big on the horror scene with this low-budget frightener concerning a picture-perfect suburban family who harbors a particularly dark secret. When their parents are killed in a tragic accident, eldest Hamilton sibling David (Samuel Child) relocates the surviving family members to a quiet California suburb and assumes the responsibility of caring for his orphaned siblings Wendell (Joseph McKelheer), Darlene (Mackenzie Firgens), and Francis (Cory Knauf). While twins Wendell and Darlene seem to share a bizarre bond that separates them from the rest of the siblings, Francis acquires a video camera that previously belonged to his deceased parents and sets out preparing a school project about his family. As the all-seeing lens of Francis' roving camera begins to reveal that something malevolent is going on inside the Hamilton's picturesque abode and his reluctant siblings find their decidedly unconventional existence suddenly threatened, the youngest sibling is forced to choose between following his family into a murderous tradition or sparing the lives of future victims by betraying the only people who ever seemed to care for him.
Critic Reviews for The Hamiltons
All Critics (3) | Fresh (2) | Rotten (1)
Not even the few moments of grim humor and bloodletting can salvage the flick's leaden pacing and overbaked narrative.
ultimately The Hamiltons is still a damn solid film.
Audience Reviews for The Hamiltons
½
[img]http://images.rottentomatoes.com/images/user/icons/icon14.gif[/img] I really liked the gore. After looking at what's displayed here i'm very confident in saying that the directors; The Butcher Brothers, clearly understand how to make beautiful, physical blood effects, and I think they have a real future within the horror film industry. However apart from that The Hamiltons is quite literally all over the place. It tries very hard to be a profound drama about the civilised family, and how without good management in the household everything can fall apart. But surprisingly the film does actually fall apart in the end. After a creepy and interesting set-up the rest of the film is uninteresting and dissapointingly dull. I will praise both the acting and the gore, but the script is weak and it's got it's ideas and morals all jumbled up. It has a very interesting premise that could have been moulded into a tremendously surreal and eerily disturbed drama. But in the end it doesn't work and it doesn't help whatsoever that not once was I scared by it, or even interested in it at all really.
Directors Cat
Super Reviewer
Actually a pretty decent film. Some parts were weird/off/irrelevant but it wasn't that bad. I was asking a lot of questions about the plot in the beginning, but by the end all my questions were answered (surprisingly). I was actually expecting a bunch of plot holes, but nope. It's pretty self explanatory by the end, a nice twist too. I went into this movie with very low expectations, and it was actually a lot better than what I thought.
½
I'm going to be generous here and chalk up all of the problems that I had with this film to "budget restrictions". I'll follow that up by saying that I think the basic premise here is intersting and while there have been variations of this "theme" over the past several years...I think this film had a (rather) fresh approach to it. One of the main issues I had is that it felt like they just couldn't decide (character wise) what they were going for here. At times their approach felt very "tongue in cheek", some parts felt like they were going for "deep, dark and brooding" and at times it felt like they wanted that "torture/horror" feel that seems to be all the rage lately. Each of which can be effective in the horror genre, but are very difficult to do (WELL) all in one film. Had they decided on one or even narrowed it down to two, it may have been better. Making this even more of a challenge was the acting, which was mediocre and slightly cartoonish at times. And the dialog was often times painfully bad. As a first/early film for the Butcher Brothers, it's impressive. As a horror film in general...it is simply o.k.
The Hamiltons Quotes
There are no approved quotes yet for this movie.