Horse Feathers
(1932)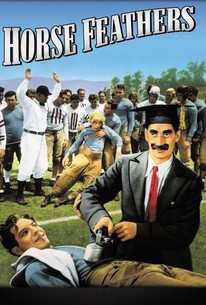 Movie Info
Horse Feathers is a classic Marx Brothers comedy, featuring all four of the original members of the comedy team. Groucho is the corrupt, scheming president of Huxley College, who plans to make the school's football team into winners by hiring Chico and Harpo to play on the team during the big game against Darwin U.
News & Interviews for Horse Feathers
Critic Reviews for Horse Feathers
Audience Reviews for Horse Feathers
Incredibly funny! Although there are scenes that are a bit long or too silly, the ending in particular, the movie overall is fun and very very funny.
This movie for me is the funniest of the Marx Brothers comedies. From the opening moments, when Groucho assumes control of Huxley College, and sings his new policy to the assembled professors, " Whatever it is, I'm against it", to the riotous football game at the end, this movie is a total delight. Chico does one of his funniest Italian con man roles, with Harpo doing some of his most inspired silent clowning, communicating by showing his tattoos, acting out in mime routines what he thinks, and blowing his usual horn. One of the most hilarious scenes has Groucho dropping in on a class ,and taking over from the professor. His attempt to deliver a lecture on anatomy is interrupted by Chico and Harpo, assaulting him with bean-shooters. When Groucho discovers the old time circus acrobat poster hung up in front of the blackboard, and demands to know who the culprit is, Harpo tearfully confesses, after Groucho has asked Chico if it's his picture, and Chico responds," I don't think so, it doesn't look like me." There's a surprisingly bawdy undercurrent of humor involving college president Groucho and his son Zeppo, vying for the attentions of the " college widow", Thelma Todd. Her gangster husband walks in, and demands to know what the various men are doing there. Chico quickly improvises, and declares that he's the music teacher, there to give Thelma a lesson. The suspicious husband makes Groucho stay to listen to the alleged singing lesson, which includes some truly delightful interplay between Thelma and Chico. One of the most enjoyable aspects of the movie is the vintage Prohibition humor, involving speakeasies and bootlegging. Prohibition was still in effect when this movie was new, and there's a whole sequence set in the local speakeasy, with Chico taking phone orders for booze, and filling differently labeled bottles of whiskey with the exact same hooch. The classic password sequence, with Chico minding the peephole, and denying Groucho admittance, is Marx Brothers zaniness at its best. As for the climactic football game...well, you just have to see it.
David Ladd
Super Reviewer
½
The brothers join a college football team to beat their bitter rivals in an important game but vampish Thelma Todd does all she can to spoil their chances. Following the formula of barely organized insanity and songs, Groucho supplies the wise cracks, Harpo and Chico the slapstick and Zeppo the dodgy acting and worse singing as per. Groucho's constant one liners are amusing but it misses his partnership with the absent Margaret DuMont and he even takes time out to side with the audience and mock the musical interludes. Harpo's slapstick is accordingly juvenile, but as is always the way with genuine comic geniuses, they manage to make even the weakest material funny. It barrels along with little thought to plot or logic and is really just a series of sketches, but it's an always pleasantly amusing snapshot into an era long gone; and the Marx Brothers are always guaranteed to make me howl at least a couple of times over the space of an hour!
Horse Feathers Quotes
| | |
| --- | --- |
| Prof. Ouincy Adams Wagstaff: | What ever it is i'm against it |
| Prof. Ouincy Adams Wagstaff: | What ever it is I'm against it. |
| | |
| --- | --- |
| Barovelli: | You sing-a high. |
| Connie Bailey: | Yes, I have a falsetto voice. |
| Barovelli: | That's-a funny; my last pupilshe got-a false set-a teeth. |
| Barovelli: | That's-a funny; my last pupil, she got-a false set-a teeth. |
Discussion Forum
Discuss Horse Feathers on our Movie forum!