Hostage High
(1997)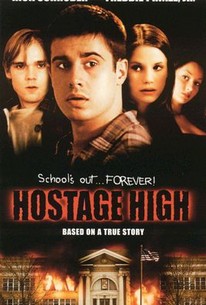 AUDIENCE SCORE
Critic Consensus: No consensus yet.
Movie Info
An angry and unstable youth lashes out against the school he believes has destroyed his future in this made-for-TV drama inspired by a true story. Jason Copeland (Rick Schroder) is a teenager teetering on the edge of emotional collapse; he was kicked out of high school for poor grades, he hasn't been able to find a job, and living at home with his bitter and demanding mother has become intolerable. One day, Jason snaps and decides to take revenge against the teachers who he believes ruined his life. He grabs a couple of guns and a stockpile of ammunition and invades his old high school, killing several teachers and students and then taking 62 kids hostage. Among the students being held at gun point are Aaron (Freddie Prinze Jr.), a bright but rebellious student who is having his own problems at school, and Samantha (Katie Wright), whose father is a deputy with the local police department. As Skip Fine (Henry Winkler), generally regarded as less than the brightest penny in the local police force but the only one with training in hostage negotiation, tries to talk Jason out of taking any more lives, Aaron and Samantha try to convince Jason from the inside that letting the students go and giving himself up would be the best thing to do. Hostage High was originally screened on American television under the title Detention: The Siege at Johnson High.
Rating:
R
Genre:
, ,
Directed By:
In Theaters:
On DVD:
Runtime:
Audience Reviews for Hostage High
[center][u][font=Arial Black]Christmas Vacation Review [/font][/u][font=Arial Black][font=Book Antiqua]Rating: 7/10 Rated: PG-13 Starring: Chevy Chase, Beverly DeAngelo, Randy Quaid, and Doris Roberts Genre: Comedy/Holidays [font=Century Gothic]It's Christmas in June! Finally, I've seen a VACATION movie... and it's all thanks to Kevin Robbins! The film is utterly hilarious and the cast seems so much like a family, that they are completely endearing! I laughed out loud and smiled hundreds of times because how happy this film made me. I have to say that it's definately one of the best Christmas films out there. The reason I gave it a 7 is because I really wanted a plot, but I didn't get one. But, that doesn't mean it's not a good movie, because it is. I also didn't like Randy Quaid in this film because he just added the disgusting humour, which made the film seem less classy. Anyways, this is a great film and I'll definately have to watch it again come Christmas time! Now, to watch the other three! [b]Concensus: [/b]A really great holiday film that's exceptionally hilarious... not for the whole family, though! [b]Rent or Buy: [/b][i]Buy, [/i]because it's a film that can be enjoyed every Christmas, for years to come! [url="http://www.rottentomatoes.com/vine/journal_view.php?journalid=230802&entryid=268881"]Kevin Robbins[/url] [img]http://images.rottentomatoes.com/images/user/smilies/fresh.gif[/img] 10/10: "Christmas Vacation is an all-time classic holiday film..." [url="http://www.rottentomatoes.com/vine/journal_view.php?journalid=226904&entryid=309014"]TreyGirl[/url] [img]http://images.rottentomatoes.com/images/user/smilies/fresh.gif[/img] 6/10: "You'd have to be crazy not to love Clarke and his family..." [url="http://www.rottentomatoes.com/vine/journal_view.php?journalid=209782&entryid=271184"]mommiezombie[/url] [img]http://images.rottentomatoes.com/images/user/smilies/fresh.gif[/img] 10/10: "This movie has become a Christmas tradition..." [img]http://i3.tinypic.com/1689chc.jpg[/img] _________________________________________________________________________ [font=Arial Black][u]Hostage High Review [/u][font=Book Antiqua]Rating: 2/10 Rated: R Starring: Freddie Prince Jr, Rick Schroder, and Henry Winkler Genre: Drama/Action [font=Century Gothic]Don't ask me why I'm interested in school shooting movies, and NO (Don't say that I'm gonna' shoot up my school, because I'm definately NOT), but for some reason the idea chills me, but also makes me think about life. The problem is, I haven't seen one film deal with this thorny subject in a positive or entertaining way at all. I mean, Elephant was a complete waste of time... even though when the kids finally shot up the school, it was enthralling. This movie though, just plunges you right into the shooting, barely explaining the character of the shooter, and makes you fall into a pit of bore. I mean the kids are all trapped in a room and the shooter allows them to watch TV and eat pizza, that's a bunch of bull if you ask me! Oh, and I'm sad to say though, that Freddie Prince Jr. was not the cause of failure of this movie, he actually wasn't too bad. Yes, a shiver just ran down my spine as I wrote that... [b]Concensus: [/b]Deals with the subject poorly and not nearly thrilling or realistic enough. [b]Rent or Buy: [/b][i]Neither, [/i]don't waste your time... even if you enjoyed Elephant. [img]http://i4.tinypic.com/168a9sp.jpg[/img] [/font][/font][/font] [/font][/font][/font][/center]
Shawn Fraxon
Hostage High and Home Room are very similar movies portraying a high school shooting. Both movies seemed like they came straght from the lifetime channel, but I still thought they were watchable. [center][img]http://images.greencine.com/images/movies/amg/dvd/cov150/drt100/t122/t12257gr72f.jpg[/img][/center] In Hostage High, Rick Shroder is a man living with his mother who can't seem to handle the pressure of life anymore. He decides to go back to his old high school, and kill the one teacher who flunked him. Once he gets to the school, everything gets out of hand. Six people end up dead, and the rest are held hostage in the chorous room. Although this was a TV movie, I really enjoyed it. Rick Shroder is an excellent actor. However, Freddie Prinze Jr. was a bit hard to watch. I gave this movie an 8 because there is just somthing about it that I liked, but i'm not expecting much agreement from others. [center][img]http://www.homeroomthemovie.com/images/pic_movie.jpg[/img][/center] Home Room is about the students lives after the fact. Two students who usually wouldn't converse, find out that they have more in common than they thought. This is actually one movie where you can see Erika Christiansen's tallents. Epecially when she shares the screen with Busy Philipps [center][img]http://img477.imageshack.us/img477/5381/wickerpark024oi.jpg[/img][/center] [left]Wicker Park is about people who fall in love at first sight and do strage things to get what they want. Some people may think that the movie is slow or boring, but I didn't mind it at all. I found the different characters interesting.[/left] [center][img]http://www.queerplanet.com.au/moxie/moxiepix/b2_832.jpg[/img][/center] [left]This movie brought nothing new to the table. It is just like every other movie were the boss is a jerk, and the rookie is trying to earn their respect. In the end, love is lost and found, respect is given, and everyone is all happy.[/left]
April *
6.5/10. Not bad at all. Quite suspenseful, exceptional performance by Rick Schroder. Freddie Prinze Jr. did a fine job and was very convincing. henry Winkler seemed out of place however. Great pace.
James Higgins
Hostage High Quotes
There are no approved quotes yet for this movie.
Discussion Forum
Discuss Hostage High on our Movie forum!