Hotel
(2003)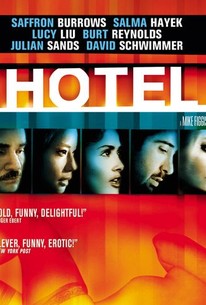 Movie Info
Following up on his innovative work Timecode, which featured four stories being told in real time simultaneously, Mike Figgis returns to a modified form of his technique in this film about the tourists, the prostitutes, the tour guides, a killer, and a film crew who frequent the Hungarian Palace Hotel in Venice, Italy. A corrupt Eastern European politician and his moll are visiting the city to complete a shady business deal while Sophie is a high-priced call girl who makes an office in one of the hotel's suites. The film crew is attempting to shoot a Dogma 95 -style adaptation of John Webster's +The Duchess of Malfi only to run into one problem after another. Magic is a professional assassin with a very odd kink -- he must have sex immediately after completing a job. Quintus, who abandoned his attempts to get fame and fortune as an actor, is a tour guide with an unusual secret. And then there is maid who not only has the skeleton key to the hotel, but also a habit of snooping. This film was screened at the 2001 Toronto Film Festival.
Rating:
R
Genre:
,
Directed By:
Written By:
In Theaters:
On DVD:
Runtime:
Studio:
Audience Reviews for Hotel
I should have stopped watching this film when Jason Isaacs left the picture. This is a film so bad that Satan has banned it from being watched in Hell because it's too awful that even he wouldn't inflict it on someone. The lovely Salma Hayek is in this, but it definitely wasn't worth my time except to read on the IMDB message boards that this film totally ruins what's apparently a good play, "The Duchess of Malfi."
Jeff Bachman
I didn't know it was possible to film a movie without a script, lighting, sound, or photography. A seeing-eye dog would've been a better director.
Ronin Assassin
The Brown Bunny is the dumbest thing i have ever seen it is supposed to be artistic and it is if you like people driving in a car for an hour, and then a little porn on the side Hotel is just a terrible movie, with a terrible idea, but I do suggest watching it for at least as long as you can stand it, cause there are some parts in there where you start to wonder what the hell the director is thinking. The Black Dahlia is definatly not De Palma's best work, but I am a fan, and despite the bad reviews I think that it was an entertaining movie, it starts out great, but the intersest slowly just fizzles away as the film rolls along. Sideways Is an awesome movie, and Paul Giamatti is the shit once again. T Tu Mama Tambien was excellent!!! An awesome story of two friends whose lives slowly drift apart.
Nick Allen
Hotel Quotes
There are no approved quotes yet for this movie.
Discussion Forum
Discuss Hotel on our Movie forum!