House Hunting
(2013)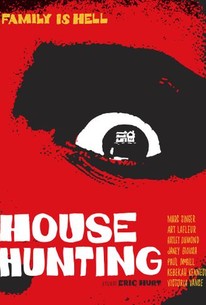 AUDIENCE SCORE
Critic Consensus: No consensus yet.
Movie Info
Two families find themselves trapped in a waking nightmare while exploring an abandoned farmhouse with a terrifying secret. After every attempt to leave the house fails, the ghost of the former owner appears to tell both families that only one of them will ever settle down there. But is that a blessing, or a curse? Marc Singer, Art LeFleur, and Emma Rayne Lyle star.
Critic Reviews for House Hunting
There are no critic reviews yet for House Hunting. Keep checking Rotten Tomatoes for updates!
Audience Reviews for House Hunting
½
This is a decent flick with a good cast. The story is fairly simple, two families go to an open house and end up being stuck in that house for a long time because every time they try to leave, they end up right back at the house. The film does, surprisingly, focus on the characters and how their sanity starts to diminish as they're stuck in this house with each other, with no way of getting out, for over a month. The suspense focuses on how the tension between the two families build to the point where they start to get violent with each other, and that's where the suspense and mystery comes from. How things simply start to unravel between these two families. There is a mysterious person that is the one that guides them to the house, but he really doesn't control the events that happen in the house...he simply manipulates them. And that's another aspect of the film I liked, the film doesn't tell you what happened in this house and to the previous family that owned it, they give you hints here and there but nothing concrete and I think that was a smart decision to do it that way, since you end up focusing on the characters and their actions, rather than the supernatural being. I thought the acting, for what is clearly a very low-budget film, was definitely very solid. Victoria Vance, Leslie, was definitely the highlight of the film and her character's arc was the most interesting of all. The film is also very nicely shot and the cinematography looks excellent. The problem with the film is that it peaks too early, with *SPOILER* Leslie's death being the high point. The film, unfortunately, after that sort of treads water until the climax, where the film picks up steam again. I did like the ending, even though it's the typical 'you think it's over, but it's really not' type of thing you seen in horror films all the time, but actually in this case it came off well and it makes the story of the film even better because there's a cyclical nature to everything that's happening. And it will keep on happening, for as long as people keep going to this open house. I just like that idea a lot, the cyclical aspects of it. Still, I think the film could've used some editing, so the pacing would've been better. I just think that after Leslie's death, the film stands in place until the climax. Still, this is, despite the rating, a better movie than I was expecting. It's not anything all that unique, but it is a perfectly fine film.
Jesse Ortega
Super Reviewer
House Hunting Quotes
There are no approved quotes yet for this movie.
Discussion Forum
Discuss House Hunting on our Movie forum!