House In The Alley
(2013)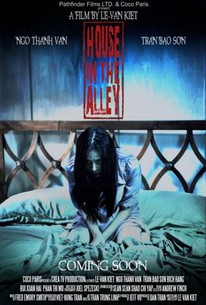 House In The Alley Videos
House In The Alley Photos
Movie Info
Until they lose their baby to a miscarriage, a young couple were happily settling into their new life in their spacious home. After the tragedy, Thao is inconsolable and won't let her baby's body leave the house. Normal life eludes her as terrifying visions undermine her sanity. Her husband, Thanh, experiences strange phenomena around their home and when his wife turns on him, he must race to uncover the secrets of the house in the alley before they lose their sanity and their lives.
Rating:
NR
Genre:
,
Directed By:
Written By:
In Theaters:
On DVD:
Runtime:
Studio:
Critic Reviews for House In The Alley
Audience Reviews for House In The Alley
½
Known mainly for its re-releases of classic horror titles, Scream Factory goes outside its norm once again by releasing Vietnamese supernatural thriller "House in the Alley." Just like with the foreign-made "Dead Shadows," they're taking a step (albeit smaller) in the right direction with this entry in the haunted house sub-genre. I wish I could report that I was completely enthralled by the film, but a very slow start and questionable pacing left me unconvinced. Just as a young couple is settling into their new house, they suffer a miscarriage. Thao is traumatized by the event and becomes withdrawn. Her husband, Thanh, does his best to console her amidst the stresses of everyday life, a demanding mother, and their family business. When Thao starts hearing and seeing things, she begins to think she's losing her mind. The couple becomes more unhinged when Thanh starts experiencing strange phenomena around the house as well. Are they cracking under the strain of the death of their child or is something unexplainable happening in their home? Writer/Director Le-Van Kiet goes out of his way to set up and slow-cook the tension into "House in the Alley." I think he was on the right track, but got a bit too heavy-handed along the way. The first two acts drift uneasily in and out of long bouts of dialogue, creepy jump scares, and suspenseful stretches. The third act of "House in the Alley" is what saved the movie. It's jam-packed full of violent outbursts and some of the most unsettling shots of a possessed Thao. The woman who plays her does an incredible job transitioning between tense calm and rabid psychosis very quick. The last ten minutes of the film come close to redeeming the first seventy or so. I don't want to insinuate that all of acts one and two are disposable, but there is a whole lot of talking that I think could've been trimmed down. Although it's not rated, "House in the Alley" could easily get away with an "R" if put in front of the MPAA. The movie includes language, violence, gore, and adult situations. There's no nudity to be seen. Instead of unnecessary sensuality and foul language, we get a film that attempts to rely on story and character development. "House in the Alley" comes with no special features. An interview or commentary with Writer/Director Le-Van Kiet would have been entertaining. A "Making of" featurette with cast interviews might have enhanced the viewing experience as well. Writer/Director Le-Van Kiet's attempt at fashioning his version of a tension-building 1970's supernatural thriller isn't a complete write-off. Some might feel "House in the Valley's" slow movement towards an explosive climax to be welcome. I just think it has too much extra padding added to stretch it out to feature length. Maybe it would've worked better as a short film or as part of an anthology collection. http://contributor.yahoo.com/user/849014/eric_shirey.html
Eric Shirey
I saw this horror film called "House in the Alley" at a film fest and it was very creepy. It is coming out Oct 25th in theaters. Check it out at www.houseinthealley.com
Jenny Smith
House In The Alley Quotes
There are no approved quotes yet for this movie.
Discussion Forum
Discuss House In The Alley on our Movie forum!