House Of Good And Evil
(2013)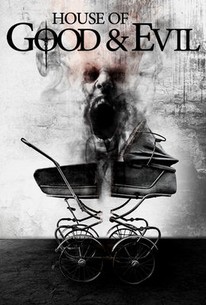 AUDIENCE SCORE
Critic Consensus: No consensus yet.
House Of Good And Evil Photos
Movie Info
After a family tragedy in the chaotic city, Chris and Maggie Conley, in a last-ditch effort to save their dying marriage purchase an isolated home in the deepest woods, to which they quickly discover evil has a key.
Critic Reviews for House Of Good And Evil
There are no critic reviews yet for House Of Good And Evil. Keep checking Rotten Tomatoes for updates!
Audience Reviews for House Of Good And Evil
½
You know, just cause a movie has a cool twist, a surprise in and of itself, does not instantly make this film into a good one. I say this because, for some reason, this film has a surprisingly positive reaction on this here website. Positive might be overstating the point but, according to the Flixster user score, 55% of people gave this film a rating of 3.5 stars or better. And I just don't see what this film could've possibly offered, past the twist, to make them think that this film was really good or possibly even better than that. Yes, this is definitely a more psychological film than it is a straight-up horror movie, but I found this film to be incredibly dull and, worst of all, an absolute chore to get through. This is probably the worst thing a movie can do, even above being terrible, because if a film is a chore to get through then you can shut it off and you wouldn't even really care enough to be bothered by the fact that you didn't finish the film. At least, in my opinion, with a terrible movie, you're feeling something about the film. There's a reaction. And the review itself would actually be very therapeutic if it's a particularly bad movie. A film that's dull or a chore to get through doesn't really inspire anything, it's not like you want to review it. The problem with this film, outside of the fact that it's 90 minutes of nothing and 15 minutes of a good climax, is the fact that there doesn't seem to be much tension in the film. You can tell that something is very clearly wrong with Maggie right from the start, and that she isn't in her right state of mind, mentally, but the acting leaves a lot to be desired in some scenes. Sometimes it's good and sometimes it's not so good. There's nothing much that's really motivating you to keep going, because you have somewhat of an idea on how the film will end, but it's like there's simply not enough interesting shit going on in the film to justify it going as long as it actually did. It's unjustifiably long. The story isn't interesting. There's very little in the way of actual horror, not that it was meant to be, but sometimes even these psychological films have more horror than this had. It's perplexing to think about who this film was actually meant for. It's framed as a horror movie, but it plays out like anything but. The last 15 minutes are definitely horror, but it's simply much too late by that time. Again, there's 90 minutes that the film wastes by simply plodding along and doing the bare minimum in order to get by. It's incredibly fucking boring to watch. It's not that this is a bad movie, not even in the slightest, it's just that it takes a pretty good idea and does absolutely nothing with it until the climax. If this film was, say, 80-85 minutes long, it'd have played out so much better. There's so much stuff in the film that could've been cut out in order for the sake of the pacing, but they just didn't. Not a very good movie until the climax. And even then it's not like it elevates the film past a level where I could say that it's good. This is a chore to get through and I definitely wouldn't recommend it. You won't miss out on anything if you decide to skip out on this.
Jesse Ortega
Super Reviewer
House Of Good And Evil Quotes
There are no approved quotes yet for this movie.
Discussion Forum
Discuss House Of Good And Evil on our Movie forum!