House of the Damned
(1963)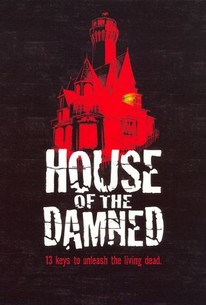 AUDIENCE SCORE
Critic Consensus: No consensus yet.
House of the Damned Photos
Movie Info
In this horror movie, circus freaks, longing for their master to get out of an insane asylum, take up residence in a bizarre mansion built by an heiress. When a couple come to the mansion to survey it, the performers do their best to frighten them off. The couple is not easily dissuaded and stay. When the wife is decapitated her husband gets very angry and begins trying to find out what is going on. He does. Fortunately, his wife reappears with her head intact as the beheading was only a circus illusion.
Rating:
NR
Genre:
,
Directed By:
Written By:
In Theaters:
On DVD:
Runtime:
Studio:
20th Century Fox Film Corporation
Critic Reviews for House of the Damned
There are no critic reviews yet for House of the Damned. Keep checking Rotten Tomatoes for updates!
Audience Reviews for House of the Damned
½
I was drawn in by the cool poster, but never again! This film was horrible! I'm just glad it was short. It tries to set up an intriguing story and some scares and all, but then it gives you a twist that just makes it all fall flat. Severely disappointed me.
An epic title: House Of The Damned. A creepy poster. A surprising year: 1963. Some surprisingly eerie visuals. A genuinely intriguing plot. These things are what drew me into the first 55 minutes of this film. I was impressed. Sure the acting was only so-so, but it wasn't nearly as bad as I imagined it might be. And sure the plot slowed to a near stop near the middle of the film, but that, in itself, is forgivable. What, then, drove me to exit this film with such utter dislike? What was it that makes this otherwise forgettable picture stand out, in a bad way? Why do I even bother reviewing it when countless other horror films from this era have received a rating but no review from me? Because, my dear, dear readers: This film has the absolute WORST, MOST DISAPPOINTING ENDING I have ever seen. And that, my dear readers is saying something. I LOATHED the ending of Superman, was left aghast as the ending of A Nightmare On Elm Street, was completely confused by the ending of The Haunting Of Molly Hartley, laughed myself into a coma at the ending of Jaws The Revenge, and rolled my eyes and shook my head in despair at the ending of X-Men Origins: Wolverine, BUT I have never been so shocked and disappointed by a film's failure to live up to the expectations it cast out to lure me in. Perhaps it is my fault to trust a horror film I had not heard of from the 1960s. Perhaps it is my fault for wanting more out of a film with a title like House Of The Damned. Perhaps it is I who it to blame for getting my hopes up on a movie I had no prior knowledge of. Perhaps it is me who should not be so quick to judge a movie that had a quite-decent first acting, a relatively interesting second act, and a plot-line that was, indeed, starting to captivate me by the time one of our heroes goes tragically missing. Perhaps I should never have expected a movie to be worth watching just because of a few eerie, other-worldly images that popped up from time to time. Or, perhaps this was simply a lame lame lame lame lame lame lame lame lame lame film that got lucky entirely too early in its runtime. ***Warning: Here There Be Spoilers*** It's circus freaks, and they didn't want to hurt nobody, gosh darn it. *** What a complete waste of my time. 4/10
Forrest P
Okay horror film, but the ending is not satisfying and is not actually a horror ending at all. The circus folk are cool, but if you want to see a great horror movie with sideshow circus performers, check out the amazing "Freaks" film which was made in 1932, it will blow this film away and leave you shocked.
daniel kegler
House of the Damned Quotes
There are no approved quotes yet for this movie.