House of the Seven Corpses
(2000)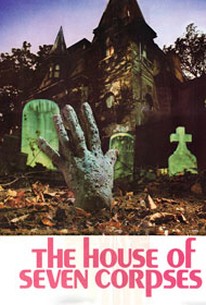 AUDIENCE SCORE
Critic Consensus: No consensus yet.
House of the Seven Corpses Videos
House of the Seven Corpses Photos
Movie Info
Filmmaker Eric Hartman (John Ireland) takes a crew to the infamous -- and cursed -- Beal Mansion to film his next horror movie. Caretaker Edgar Price (John Carradine) warns Eric not to tamper with the spirits of the house, but his message doesn't hit home until Hartman and crew accidentally summon a bloodthirsty phantasm. There's always room for one more corpse in this creepy mystery from Paul Harrison.
Rating:
PG
Genre:
Directed By:
Written By:
In Theaters:
On DVD:
Runtime:
Studio:
Critic Reviews for House of the Seven Corpses
All Critics (4) | Fresh (2) | Rotten (2)
Ultimately intends to be scary, but it works best -- rather wonderfully, in fact -- as a somewhat acid comedy about the production of a cheesy occult horror movie that weary if needy cast and crew assume will be 'garbage.'

Commercial Appeal (Memphis, TN)
How do you end a dull mystery? Oh, just toss in a zombie, and make sure you close the film as soon as possible.


Ozus' World Movie Reviews
Audience Reviews for House of the Seven Corpses
Bleed my soul. Seven cult related murders took place at an old house that is now considered haunted. A movie director thinks this would be a great location to film a movie. The local caretaker warns them to leave the house alone, but the director decides to make the movie anyway. Those on the set quickly encounter some strange behavior around the premises. "Dying is easy. Living is hard." Paul Harrison, director of several episodes from television series, delivers The House of Seven Corpses in his motion picture directorial debut. The storyline for this picture is very average and cliché. The interaction between characters and the horror elements were disappointing and average. The cast delivers mediocre performances and include John Ireland, John Carradine, Faith Domergue, Carole Wells, and Dennis Record. "You're supposed to be in a fight, not a beauty contest." This was recently on Turner Classic Movies (TCM) this Halloween season so I had to DVR it. This was a below average addition to the genre with few redeeming qualities. Overall, I recommend skipping this. "Fix your eyes. You look like a whore." Grade: C-
Kevin Robbins
How do you end a dull mystery? Oh, just toss in a zombie, and make sure you close the film as soon as possible.
Greg Wood
[center][img]http://images.rottentomatoes.com/images/movie/coverv/58/159758.jpg[/img] [left][font=Courier New][i]The House of Seven Corpses[/i] is one of those films that sounds better on the back of the box than it actually turns out to be when you watch it. I stumbled on this movie when I was looking through Halloween decorations last week, and it sounded like it could be good fun to watch. For the most part Paul Harrison's horror flick is a decent watch, but a lot more could have been done with it to make a better film. I liked that the movie centered around a cast and crew of a horror film filming inside a house that has a long history of violence. The whole "movie within a movie" motif is one of my favorites, especially when it is used creatively. Kind of fun to see a movie where the crew of a horror film gets interrupted with an actually horror movie happening around them. Just wish it didn't take so long before the horror started. The fact that this movie contains a zombie is a plus for me. [i]The House of Seven Corpses[/i] isn't the usual flesh eating zombie, but rather a murderous ghoul who is slaughtering the cast and crew one by one. The movie has some predictable moments, but the ending of the film was unsuspected by myself. Not original I will admit, but still effective. Plus the end credits were creepy to watch. The movie has a slower pace than most viewers are probably use to. Sometimes the movie hit a snag and I was beginning to lose interest. But the scenes where the cast were filming their movie were a blast to watch. Maybe it is just the film lover inside me, but I always get a kick out of seeing people making movies. [i]The House of Seven Corpses[/i] isn't a great film, but it works in my mind. It is nowhere near being one of the best zombie movies I have ever seen, but it certainly is one of the best discoveries I've had in awhile. And thankfully it is the first fresh [b]Exploit From the $1 Bin[/b] in almost a year.[/font] [/left] [/center]
Bryan Gomez
House of the Seven Corpses Quotes
There are no approved quotes yet for this movie.
Discussion Forum
Discuss House of the Seven Corpses on our Movie forum!