The House on Skull Mountain
(1974)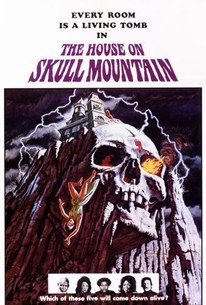 AUDIENCE SCORE
Critic Consensus: No consensus yet.
The House on Skull Mountain Photos
Movie Info
This suspenseful horror movie features an a primarily African-American cast as it tells the story of a motley group of characters who have come to the spooky Skull Mountain home of a dying voodoo priestess to hear the reading of her will. Soon the guests are dropping like flies.
Critic Reviews for The House on Skull Mountain
All Critics (1) | Fresh (1) | Rotten (0)
While it may have been spurred by the blaxploitation craze, the sensibilities of this odd gothic horror movie owe more to Black Sabbath than to Blackula.

Audience Reviews for The House on Skull Mountain
½
Your sense of humor is about as funny as your driving A woman that resides on top of a mountain that resembles a skull knows she is going to die and sends an invitation to her remaining family members to come to her house for a reading of her will. By the time they arrive she passes away. The family arrives and begins by getting to know each other and observing the lay of the area. Strange events start occurring, some of the family members turn up missing, and it become apparent that maybe their relative is not the one that sent the invitations. "What's going on?" "A funeral." Ron Honthaner, who worked on Gunsmoke, The Exhiles, and The Glass Cage, delivers The House on Skull Mountain in his lone directorial picture. The storyline for this picture is fairly straight forward for the horror genre and reminded me of a less creative House on Haunted Hill. The action scenes and premise was fairly interesting and the acting was on par for the content. The cast includes Victor French (Highway to Heaven), Janee Michelle (Scream Blacula Scream), and Jean Durand (Run for your Life). "Somebody got their wires crossed because you ain't the right color." I came across this film while flicking through the channels and had to give it a chance based on the title alone. I was also interested by the voodoo subplot. The movie was interesting and worth watching to see the overall outcome; however, the movie focused a little too much on the voodoo details and scenes which caused certain sequences to drag longer than needed. This is a bit of a downer that has some interesting sequences but is below average for the genre. "Just because she's pretty doesn't make her different." Grade: D+
Kevin Robbins
½
I pretty sure this movie inspired Wes craven to do " Serpent and the Rainbow." This movie had a voodoo related them to it that was kinda cool. Although I wish they would have made it a little more creepier and in depth. It was a fun watch though.
Jon Fassnacht
½
I actually loved every minute of it.I loved the storyline, The scenery & it was my 1st time seeing George Jefferson's son Lionel on something other then The Jeffersons.If you got time to waste & this movie is on then I'd say go for it!
Brody Manson
Super Reviewer
The House on Skull Mountain Quotes
There are no approved quotes yet for this movie.
Discussion Forum
Discuss The House on Skull Mountain on our Movie forum!