The House That Dripped Blood
(1971)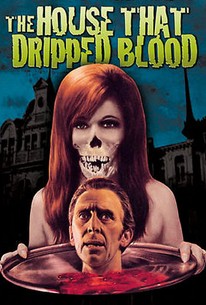 The House That Dripped Blood Videos
The House That Dripped Blood Photos
Movie Info
This anthology picture about a bad-luck mansion is a thriller with four episodes--all framed by a police investigation. A review of the files of the local policeman (John Bennett) shows that everyone who has owned the mansion has died in a horrible fashion. In the first episode, "Method for Murder," the obsessions of a mystery writer (Denholm Elliott) provide his wife with an opportunity to do him in. In the second, "Waxworks," Peter Cushing is the unhappy recipient of the attentions of a jealous husband. The third, "Sweets to the Sweet," has Christopher Lee fall victim to his charming little daughter, who plays with voodoo dolls. In "The Cloak," Jon Pertwee (best known for his TV portrayal of Dr. Who) is a horror-film star who insists on authenticity in his costumes. Somehow, he is given the cloak of a real vampire, with humorously ghoulish results. ~ Clarke Fountain, Rovi
Rating:
PG
Genre:
,
Directed By:
Written By:
In Theaters:
On DVD:
Runtime:
Studio:
News & Interviews for The House That Dripped Blood
Critic Reviews for The House That Dripped Blood
Audience Reviews for The House That Dripped Blood
½
While investigating the disappearance of actor Paul Henderson(Jon Pertwee), the police take the time to consider the strange cases of the three men who were the previous tenants of the house he was living in. With an ominous sounding title, "The House that Dripped Blood" is an ineffective and lackluster horror movie. So much so, that even Denholm Elliott, Peter Cushing and Chrisopher Lee can do little with their individual segments, each with a twist and poor special effects. It is Jon Pertwee through sheer bug-eyed abandon who makes the biggest impression. But that is still not enough to save the movie.
The House That Dripped Blood is a near flawless horror anthology that has a great sense of atmosphere which carries on through each story. The film succeeds on many levels due to its well written script, great acting and brilliant directing. This is a great anthology that has well crafted stories that are truly chilling. Director Peter Duffell direction is confident and he has a clear understanding of what makes an effective horror picture. Horror legends Christopher Lee and Peter Cushing give great performances here, and each story has something special to offer to fans. Of all the anthology films that has graced the horror genre; The House That Dripped Blood remains one of the best and is a classic of the genre. If you're looking for genuinely creepy stories, then this movie will surely provide you with what you're looking for. The film delivers something unique in terms of effective horror, and with a great cast, a wonderful script, this is a stunning anthology that remains a well structured movie that stands out above others in the genre. The film mixes all sorts of elements and works well in being a memorable film that stands out among others. This is a brilliant movie that is a must see for anyone looking for four spooky, well constructed stories in one picture. Director Peter Duffell has made a stunning movie that I enjoyed from start to finish. The cast that Duffell work with makes this one quite entertaining and with legends like Christopher Lee and Peter Cushing, this is a winner. If you come across this one, give it a shot, you'll most likely enjoy it.
½
A pretty good anthology horror film with good actors and interesting stories, I especially liked the vampire one. Some stories are better than others, but overall it's a pretty good movie.
The House That Dripped Blood Quotes
| | |
| --- | --- |
| Charles: | That's Dominic. He's the villain in my story. He's a strangler who's escaped an asylum for the criminally insane. He roams the country side at night searching for fresh victims laughing maniacally as he kills them. |
| Alice: | Sometimes I wonder where you get your ideas. |
| Charles: | Looking through the window. That's where I first saw him this morning, after you'd left. |
| Alice: | You saw him? |
| | |
| --- | --- |
| Charles: | That's Dominic. He's the villain in my story. He's a strangler who's escaped an asylum for the criminally insane. He roams the country side at night searching for fresh victims laughing maniacally as he kills them. |
| Alice: | Sometimes I wonder where you get your ideas. |
| Charles: | Looking through the window. That's where I first saw him this morning, after you'd left. |
| | |
| --- | --- |
| Charles: | That's Dominic. He's the villain in my story. He's a strangler who's escaped an asylum for the criminally insane. He roams the country side at night searching for fresh victims laughing maniacally as he kills them. |
| Alice: | Sometimes I wonder where you get your ideas. |
| Charles: | Looking through the window. That's where I first saw him this morning, after you'd left. |