Housewife, 49
(2006)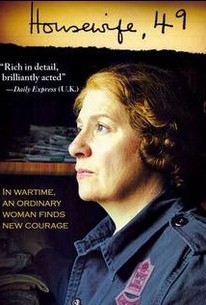 AUDIENCE SCORE
Critic Consensus: No consensus yet.
Movie Info
The wartime diaries of Nella Last provide the foundation for this story about a woman who struggled for personal liberation as the world waged a violent war for freedom. Written by a starring popular British comedienne Victoria Wood, this BAFTA-winning drama highlights how a widespread war reflected on the life of a solitary woman.
Critic Reviews for Housewife, 49
There are no critic reviews yet for Housewife, 49. Keep checking Rotten Tomatoes for updates!
Audience Reviews for Housewife, 49
½
Depressed and married to a stodgy husband, housewife Nella overcomes all problems as she throws herself into homefront volunteer work in England during the WWII. This made for TV film does not boast any great production values. All performances are good, as the British women do their bit to support the troops. This is not a bad film, but there is not much excitement in it, either. Just a nice, quiet little movie for a rainy day afternoon.
Cynthia S.
Super Reviewer
½
In Which Quiet Desperation Finds Its Voice This movie is based on a true story. Nella Last, here portrayed by British comedic actress Victoria Wood, was one of some 480 British citizens to keep diaries for the Mass Observation project, a private social research organization intended to find out what the Average British Citizen really thought of things. It started with wondering what the British people Really Thought about the abdication of King Edward VIII. The project actually survived into the '60s--and was revived again in the '80s. Really, I'm quite glad they kept on after the war, if the portrayal of Mrs. Last is accurate. I don't know about its sociological value; fewer than five hundred people out of a population of millions isn't much of a sample size. But it must have been nice to know that someone was listening, even if you never knew if they actually cared about what you had to say. Better than knowing they didn't, I suppose. Nella Last was forty-nine in the summer of 1939 when she began her diary. Within days, the German army would invade Poland, and the UK would go to war. Before the War, Mrs. Last was a quiet, shy woman with uncertain nerves. She did whatever her husband (David Threlfall) expected of her. She took great care of her sons, the stuffy Arthur (Ben Crompton) and the artistic Cliff (Christopher Harper). At first, her husband resists her intention to join the Women's Voluntary Service. However, when she joins, she blossoms. In the early days, it's largely run by the upper class women of Barrow-in-Furness, but Nella discovers that she is extremely good at organization, and the other women are glad to discover that she is willing to work hard. Unfortunately, her husband isn't so fond of the new Nella, and the War provides some terrible experiences for Cliff, the only person she ever had to rely on. However, through it all, she worked to find herself and serve her country and family. Okay, look. It's not her fault she didn't realize her son was gay. (Cliff Last was a real person, of course, though the Wikipedia article does not establish anything about his sexuality except that this movie says he was gay.) I mean, it's perfectly obvious [i]in the story[/i] and [i]to a modern audience[/i], but it would have been within Nella's lifetime that Oscar Wilde served his prison sentence--and popularized the phrase "the love that dare not speak its name." Yes, all right, there have always been people with those feelings, but after all, it wasn't until quite recently that we realized how common they are. It wouldn't have occurred to her that Cliff was in love with James (Joseph Kennedy); she still thought he wanted to marry Evelyn (Siân Brooke)--which he might well have done, had the world gone a different way. It would be hard to care much about propriety in a world as mad as the world of Europe in World War II, I should think, especially after your love was killed. As shown here, it's heartbreaking to watch Nella's life. She is a bright and clever woman. She has a knack that she never would have discovered in another world. Her husband expected her to go out only when he wanted to--and he never wanted to. Which meant she would stay in whether she wanted to or not. Her concerns were all about him and her sons. She initially refuses to join the WVS. Her husband wouldn't approve, you see. When she does go, she initially is convinced she won't go back. And so forth. Each step she takes is into a new world, one where she is more herself than an extension of her husband. She is done being quiet and listening to the whining of her impossible sister-in-law, Dot (Lorraine Ashbourne). She has a life now, and she's going to live it--even if it means going to parties without her husband. She's also a lot more inclined to take credit when it's due her and stand up for herself to those upper-class ladies, even Mrs. Waite (Stephanie Cole), who runs the thing. The movie also tells us what Nella Last did not know. We see a few scenes in the office of the Mass Observation project, including seeing the woman whose job it was to actually read her diaries (Daisy Haggard, possibly, or maybe Clare Wille?) and her reactions to it. She is absolutely brought to tears by Nella's sorrows and elated Nella stands up to the people who need standing up to. She's a little worried; Nella's marriage is so unpleasant, and are all marriages that bad? Will hers be? It would be hard not to get involved in these people's lives, I think, especially if they revealed their innermost thoughts and not just what happened to them in any given day. Nella Last scribbled her thoughts in pencil, mostly, and she probably didn't think that anyone would ever really show an interest. But there are books out now that are transcriptions of those pencil notes. You don't have to be a great person to draw the interest of your readers. In this case, it only took a sympathetic one.
Edith Nelson
Housewife, 49 Quotes
There are no approved quotes yet for this movie.
Discussion Forum
Discuss Housewife, 49 on our Movie forum!