How to Make Love to a Woman
(2010)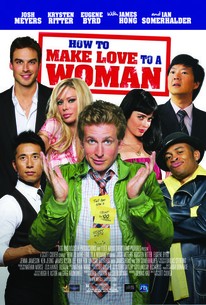 AUDIENCE SCORE
Critic Consensus: No consensus yet.
How to Make Love to a Woman Videos
How to Make Love to a Woman Photos
Movie Info
Smitten with his longtime girlfriend yet uncertain of how to express his deep-rooted feelings, a young record executive misinterprets a post-coital sigh as a sign he's not leaving her satisfied, and sets out on a misguided quest to discover the secret of pleasing women. Andy Conners (Josh Meyers) may not be the most experienced lover on his block, but his love for Lauren (Krysten Ritter) is the one thing that keeps him sane in a crazy world. But Andy's lovemaking skills aren't the problem; it's his lack of communication skills that are slowly driving Lauren away. As Andy consults with his best friend Layne to learn the secrets of driving women wild, Lauren airs her grievances to her sympathetic girlfriends and falls under the charms of her handsome ex. Later, Lauren is offered a job in Chicago, and prepares to start a new life without Andy. By the time Andy realizes his mistake, Lauren is already on a flight to the Windy City. Perhaps now that he's learned the truth about his shortcomings as a communicator, Andy can find a way to convince the love of his life to give him a second chance. ~ Jason Buchanan, Rovi
Critic Reviews for How to Make Love to a Woman
All Critics (1) | Fresh (0) | Rotten (1)
It's a parade of the familiar from the first frame to the last, rendering the glory of love as a laborious and smug nightmare.

Audience Reviews for How to Make Love to a Woman
½
Plot: The story about one couple's journey to understand the other needs in a relationship, and the quirky turns they go through to get to the truth. Starring Krysten Ritter, Josh Meyers, Ian Somerhalder, Eugene Byrd, Jenna Jameson (the world's most famous porn star), Ken Jeong and James Hong as Sifu. "Do you know how to find her diamond"? "Does she make it to Orlando"? These are some of the questions raised in this movie. When Andy hears his girlfriend Lauren sigh after sex, he panics but even with the help of his friends, porn stars and tantric experts, he continues to stumble in the bedroom, finally realizing that in order to give Lauren an "O", he first needs to say the "L" word. Watch this one if you want to learn the art of how to please a woman! Seems an impossible task, doesn't it? Well I help clear it up; communication is the key guys, communication. For anyone who has ever wondered what makes a girl ... ahem ... smile, it's a must-see.This movie has all of the answers you need. Regardless of how experienced you might think you are, I recommend this movie to ALL the guys because there are plenty of hot and caring guys who make the girls sigh too. (Or you can watch it for the nifty one liners.) "Good communication skills are the key to any relationship" (Jenna Jameson) Andy to his Parents: "Since when did everyone in this family turn into some kind of sex expert? Answer: We got cable last month." P.S It should probably be noted that although How to Make Love to a Woman is a film about sex and features porn star Jenna Jameson, there's no nudity in the film.
How to Make Love to a Woman Quotes
There are no approved quotes yet for this movie.
Discussion Forum
Discuss How to Make Love to a Woman on our Movie forum!