How I Got Lost
(2009)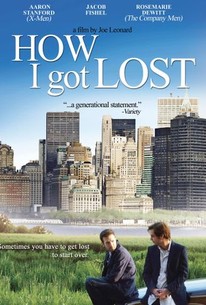 AUDIENCE SCORE
Critic Consensus: No consensus yet.
Movie Info
Their lives having drifted substantially off course, two longtime friends decide to ditch New York City and set out on the road to nowhere in this soul-searching drama from director Joe Leonard. Reckless banker Andrew (Aaron Stanford) spends most of his time boozing and chain smoking, rarely pondering anything deeper than his next deal or drink. His best friend Jake (Jacob Fishel) may look like he has it together, though the sad fact is that he, too, is completely frustrated. A failed author who now covers women's basketball for the sports pages, Jake still carries a torch for his temperamental ex-girlfriend (Nicole Vicius). One year after September 11, 2001, Andrew and Jake are still trying to figure out where it all went wrong. One night, after bullying his pal into a cab headed to Philadelphia, Andrew offers the driver $200 and Jake's shoes to get them out of the city. With that, their journey has begun. But nobody said that this trip was going to be easy, and later, when Andrew and Jake break down in the middle of nowhere, the real motivation for the trip emerges. As Andrew and Jake will soon discover, sometimes finding your true destination requires getting a little lost.
Critic Reviews for How I Got Lost
All Critics (1) | Top Critics (1) | Fresh (0) | Rotten (1)
The problem with writer-director Joe Leonard's well-intentioned road trip is that the skill of his actors is undercut by slick moodiness, dime-store philosophizing and an egregiously low-burning pace.
Audience Reviews for How I Got Lost
This movie was bad from beginning to end.I know I checked it out at the library because it was free but I really cant understand how I sat there & watched it all
Brody Manson
Super Reviewer
A pretty lackluster independent film that seemed somewhat undercooked. The story meandered and couldn't seem to make up its mind whether it was a buddy movie, a romantic drama, or a road trip film. Andrew (Aaron Stanford) and Jake (Jacob Fishel) come across as two slackers, shaken by the events of 9/11, who set off on a trip to Andrew's hometown. Jake's break-up with Sarah (Nicole Vicius), meant to add poignancy, only served to keep the film unfocused. There are a few scattered interesting scenes, and the scenery as they cross Pennsylvania is pleasant, but it just seemed like the filmmakers missed an opportunity to give us a reason to care about what happened to these guys. If anyone got lost here, it had to be the director. He obviously didn't know where he was trying to go, nor did he know how to get us there.
Mark Abell
Super Reviewer
How I Got Lost Quotes
There are no approved quotes yet for this movie.