How the West Was Won
(1963)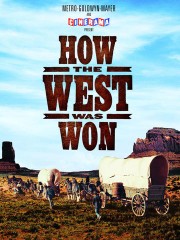 Tickets & Showtimes
How the West Was Won Trailers & Photos
Movie Info
Filmed in panoramic Cinerama, this star-studded, epic Western adventure is a true cinematic classic. Three legendary directors (Henry Hathaway, John Ford and George Marshall) combine their skills to tell the story of three families and their travels from the Erie Canal to California between 1839 and 1889. Spencer Tracy narrates the film, which cost an estimated $15 million to complete. Westward expansion shows scenes of the Indian's sorrow, the white man's greed, river pirates, outlaws, lawmen, and life and death on the Western plains. Dozens of marquee names worked with over 12,000 extras, 630 horses, hundreds of horse drawn wagons, and a stampede of 2,000 buffalo. The human cost of the concept of Manifest Destiny is revealed in all its colorful and violent glory. How the West Was Won garnered three Oscars, for screenplay, film editing, and sound production.
more
Cast
News & Interviews for How the West Was Won
Critic Reviews for How the West Was Won
Audience Reviews for How the West Was Won
½
Any Western with this cast is worth a glimpse. Very interesting story of the American history on a grand scale. This movie in effect tells the fourth story - and tells it in a thrilling, colorful way - from the 1840s when the frontier was still the Ohio Valley to about 1885 - not so long a time. These stories brought two actors, Debbie Reynolds and George Peppard, in two of each stories.
This is stunning - beautifully cast - music you'll always remember - and many powerful and moving scenes.
Dean McKenna
Super Reviewer
You have to hand it to everyone involved, this is one mammoth viewing experience. This covers generations as well as historical events like no other movie has attempted to do. I think the wisest decision was having multiple directors so each time period has a different feeling and vision. With a huge western ensemble, this is no short of fun to watch. Most of the known actors play some of their suited roles and serve as a time frame for the genre itself. What's interesting is that the segments get richer and more defined as they go along, rather than decrease in quality. Now this isn't a character movie in a traditional way, I don't even think there is a close up shot at all. However, this shows the progression of the west from a dream to a reality.
How the West Was Won Quotes
Narrator: The west was won by its pioneers, settlers, adventurers is long gone now. Yet it is theirs forever, for they left tracks in history that will never be eroded by wind or rain - never plowed under by tractors, never buried in compost of events. Out of the hard simplicity of their lives, out of their vitality, of their hopes and sorrows grew legends of courage and pride to inspire their children and their children's children. From soil enriched by their blood, out of their fever to explore and be, came lakes where once there were burning deserts - came the goods of the earth; mine and wheat fields, orchards and great lumber mills. All the sinews of a growing country. Out of their rude settlements, their trading posts came cities to rank among the great ones of the world. All the heritage of a people free to dream, free to act, free to mold their own destiny.
Discussion Forum
Discuss How the West Was Won on our Movie forum!
News & Features