How to Cook Your Life
(2007)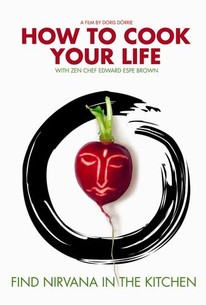 TOMATOMETER
AUDIENCE SCORE
Critic Consensus: This charming doc takes its time while focusing on food, but highlights larger lessons that audiences will reflect upon long after leaving the theater.
How to Cook Your Life Videos
How to Cook Your Life Photos
Movie Info
"How to Cook Your Life" is about the art of cooking. Zen priest of cookery, Edward Brown, demonstrates that food means much more than just nutrition and that cooking is a feast of the senses, as well as an act of love and generosity.
Rating:
PG-13 (for brief strong language)
Genre:
, ,
Directed By:
Written By:
In Theaters:
On DVD:
Runtime:
Studio:
Critic Reviews for How to Cook Your Life
Audience Reviews for How to Cook Your Life
Whereas I don't agree with everything in this movie, I loved watching it. And the food looked delicious. It's a nice change in nutritional documentaries; instead of highlighting the bad like Food inc, Supersize Me, Botany of Desire, etc, this one highlights the good in food. And Edward Brown just finds the little details of life so enjoyable, that you can't help but like him- especially watching his attempt to open prepackaged cheese. But like I said, I don't agree with everyone. The scavenger, for example, who boasts about saving upwards of $800 a month because she dumpster dives and pulls fruit off of private trees was not something I would advertise, and I don't feel it belonged in this movie.
Chris Stoicsitz
Sure, documentaries are usually slow and uneventful, but they should be informative. Well, Doris Dorrie doesn't have much going on with informing in this picture.
There is no clear point as to what this documentary is trying to be. Is it a film about food? Is it about cooking? Is it about religion? Supposedly, a handful of people are attending some sort of zen class with cooking, but after a brief shot of the day's schedule in the beginning, there is no indication of any schedule being followed. The film bounces around from topic to topic and it also momentarily switches to other people for interviews that seem to be on a tangent from what Chef Edward Brown is talking about.
Chef Brown himself is very bland and monotonous in the way he talks. This makes this 90 minute picture extremely boring from beginning to end. He attempts humor from time to time, as he laughs at his own comments, but most, if not all, are very hard to find laughable.
How to Cook Your Life does have a message that some will connect with; however, this film just does a bad job at conveying it.
edward espe brown, the main subject in this movie does an excellent job in making the incredibly interesting subjects of zen, cooking, and zen cooking, as boring and unappealing as possible. he does with through a combination of patronizing parroting of zen cliches and exposing a patheticness of personality. the fact that he talks about a word a minute also helps in making this lethargic parade of americanized zen platitudes a borefest. the best parts of this movie are some archive footage of shunryo suzuki, and a couple of shots of a healthy produce in a garden... favorite lowpoints: when edward starts crying because something is dirty, when he strangles a piece of cheese, and his stupid "born again buddhist" t-shirt, worn without any sense of irony.... do yourself a favor... and skip it
h a
Discussion Forum
Discuss How to Cook Your Life on our Movie forum!
News & Features