How to Grow a Band
(2012)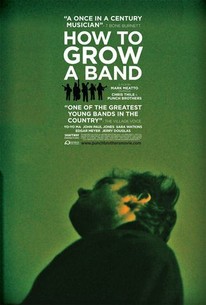 How to Grow a Band Videos
How to Grow a Band Photos
Movie Info
In How to Grow a Band, 26-year-old Chris Thile is at a crossroads. His marriage has ended, and his platinum-selling band, Nickel Creek, has gone on "indefinite hiatus." But Thile, a perfectionist prodigy who's defied expectations since he learned the mandolin at age five, has a plan. Step 1: Write a 45-minute, four-movement elegy to your failed marriage to be played by a bluegrass quintet. Step 2: Recruit the only musicians around talented enough to play it and crazy enough to sign on. Step 3: Make a record, launch an international tour and brace yourself. Filmed with uncommon access, How to Grow a Band provides a rare look at the start of one of America's most promising young bands and explores the tensions that test young artists: individual talents and group identity, craft and commerce, innocence and wisdom. -- (C) Official Site
Rating:
NR
Genre:
,
Directed By:
In Theaters:
Box Office:
$19,237.00
Runtime:
Studio:
News & Interviews for How to Grow a Band
Critic Reviews for How to Grow a Band
Audience Reviews for How to Grow a Band
½
"How to Grow a Band" is a documentary about the sexily earnest blue grass man Chris Tille, but some of its snazziest moments are old videos of him as a boy. Small and blonde, he holds a guitar, cheerfully announcing how old he is and which songs he will be playing. He sounds incredibly confident, but that somehow makes you want to protect him. As the movie reveals, the adult Mr. Tille is someone who does need protecting and perhaps, someone other need protecting from. The movie begins with a vague recap of the disentegration of his boys-and-a-girl band Nickel Creek and a more in-depth chronicle of how his boys-and-boys band Punch Brothers (hmm....) begins. But Mr. Tille has more in mind than simply galloping off with a new gang--he wants to use his newfound friends to help him perform "a four movement, forty-minute bluegrass string quartet." He wants to use the mandolins, basses, and guitars that characterize bluegrass to create an elongated piece that's more like a Mahler symphony than a pop song. It's called, "The Blind Leaving the Blind" and its subjects include Mr. Tille's dating life and divorce. The construction of this ambitious piece is mostly left out of the film--what director Mark Meatto (who edited the film with Purcell Carson) is interested in is the band's struggle to help the public embrace this piece of music, which pushes the boundaries of format and audience attention span. The crux of the problem is revealed in a conversation in the band van--the Punch Brothers believe in their artistic vision, and yet they understand why some audiences can't appreciate its unusual nature. Ultimately, this dilemma is resolved. What remains troubling is the relationship between Mr. Tille and the rest of the Punch Brothers. The band seems happily resigned to singing in Mr. Tille's shadow--on the surface at least, they acknowledge him as "the musical genius." But aside from the obvious issue that being a second wheel can hardly be satisfying, the band members seem frustrated with Mr. Tille's controlling auteurism and his insecurity. It's suggested that he dominates the band, in a perhaps unhealthy manner. But herein lies what makes "How to Grow a Band" special--everyone is given their due. Mr. Meatto makes it easy to sympathize with the lesser-known Punch Brothers, but he has equal sympathy for Mr. Tille to. Why else would he include a tender moment wherein the musician talks about how his quintet chronicles the idea that there's no one true love? But more importantly, why else would he include those childhood videos, which make it impossible not to love the boy and the man he grows into? ****:)
Ben Ferguson
How to Grow a Band Quotes
There are no approved quotes yet for this movie.
Discussion Forum
Discuss How to Grow a Band on our Movie forum!