John Cleese on How to Irritate People
(1968)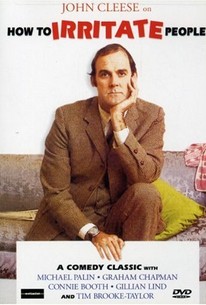 AUDIENCE SCORE
Critic Consensus: No consensus yet.
Movie Info
In this mock-documentary, John Cleese narrates a series of sketches on irritation -- types and techniques. Included are parents irritating their children, old ladies irritating movie-goers in a theater, an overly subservient waiter, a car repairman denying obvious car trouble, a party guest hinting for a ride, airplane pilots playing practical jokes on their passengers, and a talk show host who doesn't stop talking.
Rating:
NR
Genre:
,
Directed By:
In Theaters:
On DVD:
Runtime:
Critic Reviews for John Cleese on How to Irritate People
All Critics (3) | Fresh (1) | Rotten (2)
Watching this television special is like encountering demos of early day Beatles... We can see where he'll be going, but he's not quite there yet.



Worcester Telegram & Gazette
Audience Reviews for John Cleese on How to Irritate People
This is sort of a documentary or a "mockumentary"? The sketches remind me of Monty Python a lot. Cleese is really funny and this movie has some really good sketches, but I wished he could have put them together into a narrative story.
Fragments of Better Things to Come It is essentially impossible to discuss this without Monty Python's coming into it somewhere. It's not just because one of its sketches was reused essentially in its entirety on the show. It's not because one of its sketches was rewritten into one of the most famous from the show. It's not even because it is the advent of the so-called Pepperpots, those frumpy women who form so much humour to come. And, I think, the fact that it's John Cleese and Michael Palin and Graham Chapman is only one aspect of the reason. The reason, you see, is that it's all of that. Someone compared it to watching early film of the Beatles and seeing what they would be before that was what they were, and I think that's a reasonable comparison. There is a beginning of Python here. Proto-Python, if you will. And I wonder how vastly it must irritate John Cleese that his entire career is compared to just a few years of it. The piece, produced by David-Frost-yes-that-David-Frost, is pretty much what it says, really. It is a series of sketches involving John Cleese et al. wherein they do really irritating things to one another. They show several types of irritating, ranging from the minor "annoying you while you're trying to watch TV" through to "freaking the passengers on your plane out so bad that they all bail out." There are a few mentions of how to combat irritating people, but much more attention is given to how to keep those you've irritated from retaliating in a like fashion. Or, you know, just hitting you. The advice is basically to make it look like a personality flaw as opposed to a thing you're doing on purpose. Even though, yes, essentially everyone in the show is. Often gleefully when they think the person they're annoying isn't watching. They have taken John Cleese's advice. Or, oftentimes, are John Cleese to begin with. It's a short, silly work. From a certain perspective, there isn't even anything special about it. My understanding is that there were several things along these lines on British television and radio in those days. It was a bit of an experimental era. What could be done with the medium? That year in the United States, the highest-rated network show was [i]Rowan and Martin's Laugh-In[/i]; on the other hand, Lawrence Welk was in the top thirty. It's probably true that, both on the BBC and on American network television, there were a handful of things like this or like [i]The Smothers Brothers Comedy Hour[/i] (#27 for the year), and mostly, you got [i]Bonanza[/i] (#3) and [i]Gomer Pyle, U.S.M.C.[/i] (#2). However, this one was the beginning of something, not a small light against the darkness. Okay, maybe not this show itself, but I'd wager more young people today know who John Cleese is than Jim Nabors. Really, the highest lights in it are the airline pilots and the car mechanic sketch which would be rewritten and turn into the Dead Parrot. (They didn't think this version worked, but I like it.) The interviewer bit falls flat for me both in this version and in the Python redo. Alas to John Cleese, it really is only notable for its historic value. It's where they went which matters, not where they were at the time. I've been watching a lot about Lewis & Clark lately (because L), and I think a reasonable comparison is talking about their time in St. Louis. Yes, it took some doing to get there from Virginia, but it was well-traveled roads. By the time they hit even as far west as Kansas City, it becomes interesting. Arguably, the stuff where they've hit the Pacific is boring again. Right now, none of them need to do anything with their lives. I can't imagine that any of them want for money. But Terry Gilliam is battling his own windmills on [i]Don Quixote[/i] again, and Eric Idle is exploring the wonderful world of the Legitimate Theatre. And Michael Palin, perhaps most daring of all, is showing BBC audiences that the journey really is the important bit. Since that's really all I have to say about this work, given it clocks in at 65 minutes and has no plot, let me throw this idea out. Gwen has suggested that I might actually start making blog entries. She thinks people might be interested in some of my film backstory stuff. Why I started watching movies. Why I started my library project. She even wants to know how I became so weirdly fixated on Roger Ebert. Just little things, really, which shape my life and are the reason I write here every day. So let's hear from you, O Six Readers. [i]Is[/i] that something you'd be interested in? Do you have the vaguest impulse to read me babbling about myself instead of, at least in theory, the thing I have watched on any given day? Are you interested in the story about how I'm pretty sure I met Anthony Michael Hall? How I was there the day locations people crawled all over my mom's house for [i]Anywhere But Here[/i]? Because I do have all those weird Growing Up in LA stories to share, if anyone wants to listen.
Edith Nelson
John Cleese on How to Irritate People Quotes
There are no approved quotes yet for this movie.