How to Lose Your Lover
(2006)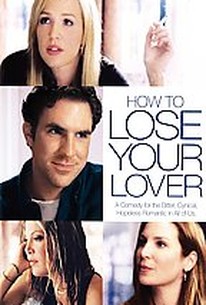 AUDIENCE SCORE
Critic Consensus: No consensus yet.
Movie Info
Rating:
R
Genre:
Directed By:
On DVD:
Critic Reviews for How to Lose Your Lover
All Critics (1) | Fresh (0) | Rotten (1)
Its answers to questions about love and relationships are either empty or just wrong, but the movie can be enjoyed on its sitcommish merits

Audience Reviews for How to Lose Your Lover
(***): [img]http://images.rottentomatoes.com/images/user/icons/icon14.gif[/img] Funny and well-made.
TTT C
[left]I've got a hitch in my giddyup today.. on top of already having a bad toe I scraped another on the same foot while exiting the hot tub. I have this weird sort of pseudo-limp from trying to avoid sock/foot friction. I'm sharing this only because I wanted an excuse to say "I've got a hitch in my giddyup."[/left] [center][b][u][img]http://img487.imageshack.us/img487/5108/pdvd135dummy2kl.jpg[/img][/u][/b][/center] [b][u]The One[/u][/b] What a fun movie. Director James Wong ([i]Final Destination[/i], [i]Final Destination 3[/i]) lets go of the solemness that plagues so many films of this type and sets the over-the-top action sequences to popular power rocks songs from the likes of Disturbed and Drowning Pool, making for some killer scenes. After the first of these cool episodes I thought, "The only thing that could have made that cooler would have been Jason Statham." Well, who do you think shows up in the next scene? Statham doesn't have much to do in the way of fighting, but he does square off with Jet Li for about a minute (in the midst of a Jet Li versus Himself battle.) The political quips are funny, too - President Gore in one universe, President Bush in another (outlining a plan for universal healthcare no less,) and there's a neat cameo from the [i]American Movie[/i] guy. Really just a fun martial arts flick in the post[i]-Matrix [/i]movie world[i]...[/i] with Carla Gugino. [b][u]How to Lose your Lover[/u][/b] This was a recent direct-to-DVD release (That Netflix delivered to my door the day of its release, go Netflix!) starring Paul Schneider A.K.A. my reason for renting. I haven't seen Schneider in much aside from [i]The Family Stone [/i]and [i]Elizabethtown[/i] but it's enough to know I like him, and I would love to see him headline a romantic comedy. Well, although this isn't a big movie, it's still a one-up from your average romcom - it's an anti-romcom. The premise is that Schneider is fed up with his fake L.A. lifestyle writing biographies about people that make them sound better than they really are and walking on eggshells with even his closest friends, so he burns all his bridges and heads to LAX... where he meets a girl who he could have a good chance with. He knows that if he leaves that girl will be on his mind, so he tries to sabotage the situation. I was expecting this to blow hard, but it actually hit the spot. It's a non-stressful hour and a half with some funny jokes and an interesting enough story headed up by a fun lesser-known cast. Recommended for a rainy day! [b][u]Dummy[/u][/b] As the commentary track with Jeff Dunham (which plays more like a drunken episode of MST3K) states toward the beginning, the studio must think it's really clever for releasing this after Adrian Brody won the Oscar. Well, however it got released is fine with me, it's actually a pretty darn funny movie if you're in the right mood. I watched it twice, the first time I was pretty bored but the second time I was laughing my ass off. My reason for renting, Milla Jovovich, gives my favorite performance of hers so far as the crazy rocker best-friend who gives all the wrong advice to our shy hero. The relationship that develops between Brody and the Dummy is surprisingly compelling, also. [b][u]North Country[/u][/b] After praising Netflix for delivering How To Lose Your Lover on the day of its release, I'll curse them here for making me wait a whole month for North Country! My reason for renting this was... well I'll be damned, I don't know. Maybe Charlize Theron or Frances McDormand, who are both excellent. The movie is pure Oscar bait, but Theron earned her nomination. It helps that there's a backdrop of Bob Dylan songs (Dylan wrote a diddy or two about the events the film is based upon, a la [i]The Hurricane[/i],) but my major complaint is with the repeated sexual harrassment scenes. After a while I just wanted to stand up and say "I get it, move on!" We spend 2/3rds of the movie watching Theron get shat on left and right in seperate incidents, and frankly, it's tiresome. The supporting cast is great though, featuring Woody Harrelson, Sissy Spacek, Sean Bean, the aforementioned Frances McDormand, Michelle Monaghan (who I thought was Lauren Graham until the end credits proved me wrong) and the great Richard Jenkins. All in all, my opinion of North Country is similar to my opinion of [i]American Splendor [/i]- it is a movie. [center][url="http://img487.imageshack.us/my.php?image=ccharlize565qo.jpg"][img]http://img487.imageshack.us/img487/8512/ccharlize565qo.th.jpg[/img][/url] [url="http://img487.imageshack.us/my.php?image=ccharlize1269vm.jpg"][img]http://img487.imageshack.us/img487/5858/ccharlize1269vm.th.jpg[/img][/url] [url="http://img487.imageshack.us/my.php?image=ccharlize1018hd.jpg"][img]http://img487.imageshack.us/img487/3690/ccharlize1018hd.th.jpg[/img][/url] [url="http://img60.imageshack.us/my.php?image=ccharlize1332oc.jpg"][img]http://img60.imageshack.us/img60/9391/ccharlize1332oc.th.jpg[/img][/url] [url="http://img60.imageshack.us/my.php?image=ccharlize497qz.jpg"][img]http://img60.imageshack.us/img60/996/ccharlize497qz.th.jpg[/img][/url][/center]
Tom Stoup
½
Very well written and surprisingly good comedy. The cast is very engaging, especially Paul Schneider and Jennifer Westfeldt. There are some very funny scenes and it never failed to entertain me. The basic story is a man (Schneider) is jilted and decides to start telling everyone the truth about themselves and get out of L.A. forever. At the airport he meets a woman (Westfeldt) and that changes everything.
James Higgins
How to Lose Your Lover Quotes
There are no approved quotes yet for this movie.
Discussion Forum
Discuss How to Lose Your Lover on our Movie forum!